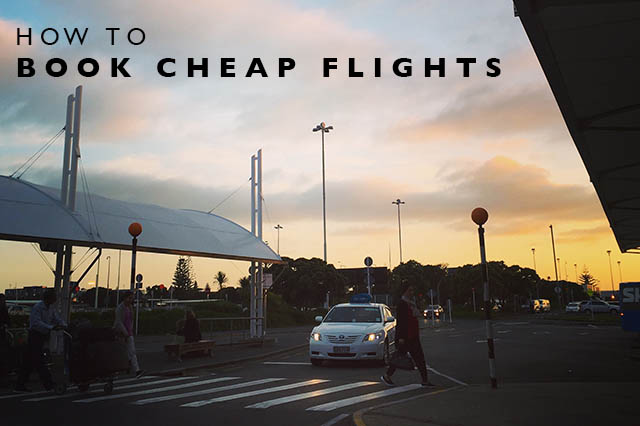 It's no secret that travel and airline flights can add up to a lot of money.  But if you're willing to do some research and take the time, you can often find some really amazing deals.  And in a time when it seems prices just keep surging higher, here are some not widely known tips for how to book cheap flights when you travel!
Keep up to date on budget airline routes.
I subscribe to all the budget airlines' emails to keep up to date on their deals and sales.  Airlines like Norwegian Air (to fly from the US to Europe), Wow Air (US to Iceland), and EasyJet (all over Europe) are some of my favorites for scoring really low airfare.  And in order to know when they are having major deals, you have to subscribe to their mailing lists.
Fly on holidays.
One of our favorite ways to save on travel airfare is to fly on actual holidays.  If you fly on Thanksgiving or Christmas or Memorial Day, chances are you'll save a bunch of money, simply because most people don't want to fly on those days.
Search for one way tickets instead of round trips on multiple airlines.
I do this often and it's one way to save a ton of money and find cheap flights.  Instead of searching roundtrip fares on one airline, try searching for one way fares across a variety of different airlines.  Often you'll find that certain airlines offer way cheaper one way deals and it might save you a bundle!
Fly in the middle of the week.
A well known airfare fact, flying on off days in the middle of the week or strange times can often be a whole lot cheaper.  Just make sure it works with your travel plans!
Do your research, then jump on low fares when they arise.
Make sure to do the research and know what your route is generally going for.  That way when you see an incredible deal, you'll know it's incredible and you can jump on it.  I usually like to watch airfares for trips for a month or so before booking so I know about what it should cost me and what the deals will be.
Fly into smaller, more out of the way airports.
A great, simple way to save a bunch of money on flights is to look at the smaller, farther out airports to fly in or out of.  For example, it's often a lot cheaper to fly into Gatwick rather than Heathrow in London, or Orly versus Charles de Gaulle in Paris.  In large cities, there are often multiple airport options so check them all out and find the cheapest option for your travels.
Take advantage of long layovers or free stopovers.
Airlines like Iceland Air, Hawaiian and British Airways are offering free stopovers in their home cities these days.  Deals like this can often add another cool place to explore without paying the airlines any extra.  So if you want to add a long stover to your trip to stay and explore somewhere new, take advantage of these deals.
Fly off season – Spring or Fall.
Perhaps the best way to find cheap flights, avoid peak season which is mainly Summer and around peak holidays like Thanksgiving or Christmas.  Personally, my favorite times to travel are in the Spring and the Fall, when the weather is temperate and there are less crowds.  This is also when you'll find cheap flights to major destinations and save the most money!