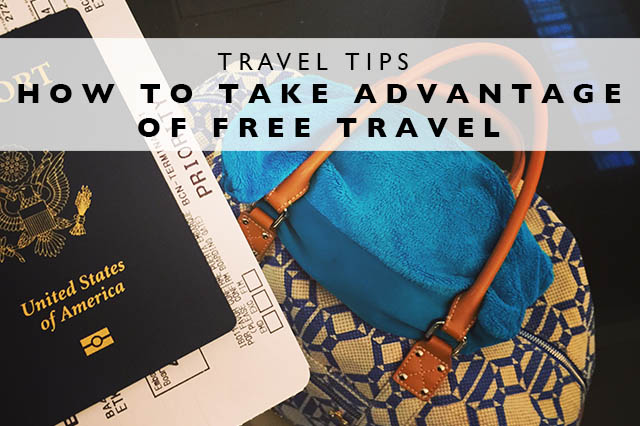 Travel is expensive.  Unless you find ways to cut that cost which definitely exist, things like points and miles can go a long way to saving money on travel, but there are actually a lot of ways to make travel even more inexpensive if you know where to look.  Actually there are lots of ways to take advantage of free travel, yes, completely free things while traveling.  That's not to say your entire trip will be free, that's probably not going to happen.  But if you know where to look, you can definitely take advantage of lots of things that will be completely at no cost to you and here's how!
Free hotel nights.
I've been praising the Hotels.com loyalty program for years and it's one I personally use a lot.  And I can personally say I've reaped the rewards of their program and gotten a ton of free hotel nights in my own travels.  Every 10 nights you stay with them, you get one free (up to a certain amount of course).  If you're not a member already, you should be.  Then start staying and after 10 nights, use that free night for a trip somewhere you've always wanted to go!
Free parks and recreation. 
One of my favorite parts of travel are exploring free parks and recreation activities in a location.  You'd be surprised at how many attractions are actually free in major cities, just do your research beforehand to find out.  For example, almost all museums are free in London.  As well as National Parks around the world and city parks in major cities, all free and wonderful to enjoy.
Free transportation. 
When we travel, transportation is always one of those items that we research fully before leaving.  Knowing which transportation options are best for you and which are the least expensive can really help save money while traveling.  But my favorite transportation options are when they are offered for free.  Take a look at your hotel and see if they offer free shuttle transport from the airport or to major attractions.
Free rentals.
There are a lot of hotels around the world that offer free rentals to their guests.  In cities like Amsterdam and Portland, many hotels offer free bikes for their guests to use while staying there.  Take a look at your location and your hotel and see what rentals they might offer for you to enjoy the destination even more, completely for free.
Free stopovers.
A lot of airlines these days are coming around to the idea of offering free stopovers.  Iceland Air famously did this a few years back and I think it's had a huge impact on Iceland's tourism.  But other airlines like British Airways and Hawaiian Air now offer it as well.  Basically you get the same priced flight, but it includes a stop over in the airline's hub city.  So if you fancy a few days in Iceland (which you totally should), then make use of this no-fee, free stopover option on Iceland Air.  Or pick London with British Airways or Honolulu with Hawaiian Air!
Free food and drink.
A great way to cut a lot of cost when traveling is to take advantage of free food and drink.  Many hotels offer breakfast as part of your room rate, so if they do, take advantage.  Breakfast can easily add a large chunk of your budget when traveling, so figure out where you can take advantage of it if it's already included in what you're paying for your hotel.  Or if you like an evening cocktail, many hotels offer happy hours to their guest as well which can cut a lot of cost if you were to go out for those drinks in your destination.