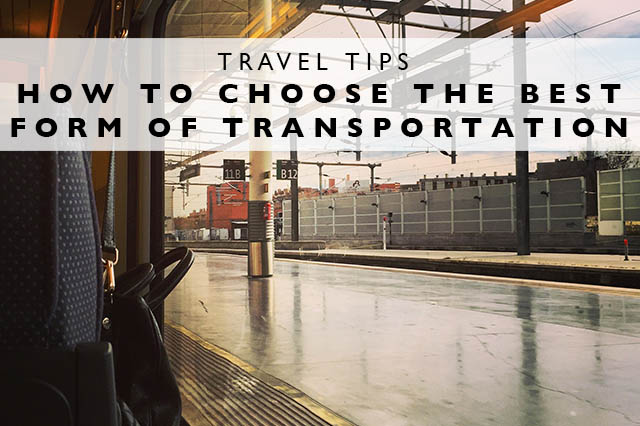 Much of the time when we all book travel, we focus so much on the airfare and hotels that the actual act of getting around a destination when there is left behind.  I get a lot of questions on how to get from place to place when we travel and so today, here is how to choose the best form of transportation while in a destination!
Research all the options.
This can be tedious work but it's so worth it to do this when planning your trip.  For example, in Europe there are countless options to get around cities or from country to country.  Research all the options and make a list of what is offered.  Trains, planes, taxis, metros… the list is endless, but start with finding out what is even out there.
Look at prices.
Often times one form of transportation will be a lot cheaper than another, but remember this is just the second step and you'll want to make sure it really works for you.  But start by looking at what the different options charge.  You might be tempted to jump on the cheapest option… but if you wait and look at the next step, you're thoughts might change!
Look at time frame and duration.
The problem with jumping the cheapest transportation option – you might end up with a 4am flight from place to place that's super cheap but is it worth your time traveling to wake up in the middle of the night, be at the airport 1.5 hours before your flight, add the flight time and then add the time it takes to get back into the next destination from the airport?  Often times in Europe, trains might be a little more expensive than budget airlines, but for the time and duration of the trip, sometimes it might make a big difference for your travel schedule.
A great examples of this: If you're trying to get from London to Paris and you find a really cheap airfare deal, think about how much time it takes to get from Central London to Heathrow, then how long it takes to get through Heathrow, how long the flight time will be and how long it will take you to get from the airport to Central Paris.  Often times the Eurostar train might be a bit more expensive but for ease and time, it might be worth it over a flight!  It's all about gauging what's important to your schedule and making the best choice for you.