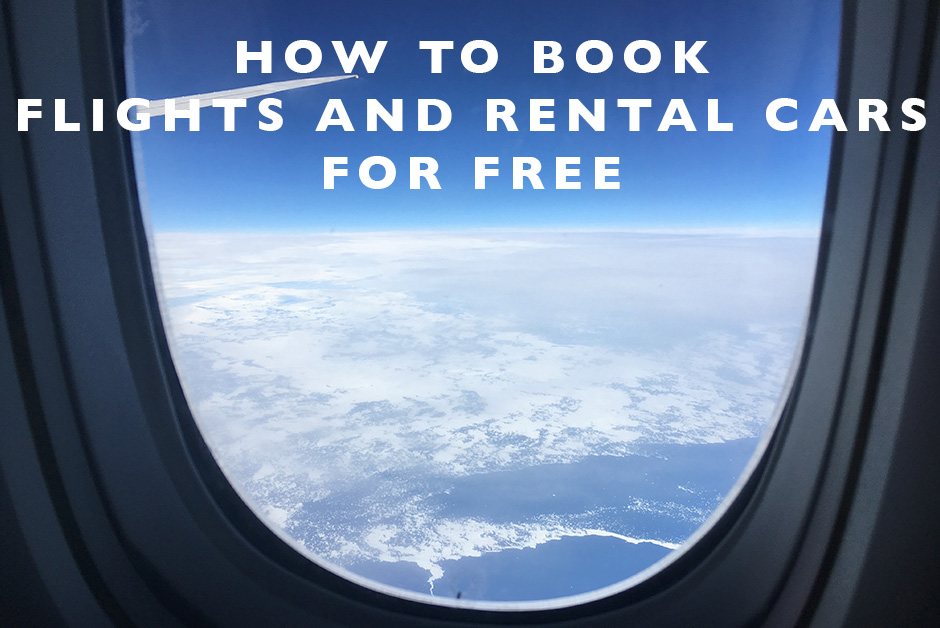 A couple weeks ago, I sat down to spend an hour or so finishing booking the majority of the items for our trip to Europe in March.  We'll spend 10 days wandering through Southern Spain, Paris and Tuscany, visiting some of our favorite spots as well as exploring some new ones too.  And while this trip sounds pretty dreamy, as I got into the planning process of it, I quickly started realizing how many items there were to plan for – hotels, rental cars in different cities, flights, trains.  Such is the way that travel goes, it's always so much fun thinking ahead to a trip but sometimes we forget how much time and money goes into actually planning these dreamy escapes.  The good news?  I actually booked the majority of this trip on points.  Not sure how to do that?  No problem!  Today I'm sharing the inside information for how to book flights and rental cars for free all around the world so you can too!
I'll walk through each of the items below on our itinerary for this trip that I got for free (or for a major discount) using points and miles.  And then at the bottom, links to how you can do this too for your own trips in the future!  I'll use my itinerary for this trip for reference, but be sure to check into your own destinations to customize it for you.
How to plan a European escape in March for free (or for a lot less!)
Flight from Portland to NYC
At the beginning of our trip, we'll fly to New York for a night.  It happened that this was the best route heading to Spain using our Alaska Airlines miles on American Airlines.  We don't have a lot of direct flights to Spain on Alaska's partner airlines from the West Coast, but it was easy from New York.  And due to flight times, it was easier to fly in the previous day and make a might of it in NYC.  This leg of the trip cost $11.20 and 25,000 Alaska Airlines miles for 2 people.
Flight from NYC to Madrid
As mentioned above, to use Alaska Airlines miles on their partner airlines, the American Airlines flight from New York's JFK airport to Madrid was the easiest option for our itinerary.  I had a particularly large stockpile of miles at the time of booking so we opted to use them and upgrade ourselves to Business class with lie flat seats for this international leg of the journey.  Flying JFK to Madrid on American Airlines in Business Class cost $36.20 and 115,000 Alaska Airlines miles for 2 people.
Rental Car from Seville to Malaga*
To show you the real trip, I'm including this rental car that we'll get to drive from Seville to Ronda and then to to Malaga and return it there.  We'll only need the car overnight and it will be returned to a different location than we pick it up which adds a little bit of cost.
*I haven't booked this yet but plan to book this on my Chase Sapphire points.
Flight from Malaga to Paris*
We'll fly from Malaga, Spain to Paris one way and while I haven't booked this flight yet, I'm looking at an Air France flight due to the time we'll need and will probably pay in full for this flight.
*I haven't booked this flight yet, but will probably pay in full since intra-Europe flights are generally pretty inexpensive.
Flight from Paris to Florence (Paid Full Price)
After a quick stopover for a couple days in Paris, we'll head onto Tuscany.  It was easiest location-wise to fly into Florence, Italy.  For this particular leg of the journey, I did actually pay full price and while this wasn't free, I want to be transparent and let you know why I actually opted to pay for this flight.  Flying into Florence, there aren't a lot of time options and this particular one worked the best for our schedule.  I also wanted to fly Air France to not have to pay for carry on or checked luggage (like on EasyJet) as well as collect the Flying Blue points.  So all in all, I decided it was better to pay the cost of this flight versus using points and miles.  For this leg of the journey, I paid $318.98 for 2 people.
Rental Car from Florence to Rome
For rental cars, I find it's usually a better deal to use points rather than to pay outright for them.  You can usually find pretty cheap flights within Europe and it's generally better to pay cash for those versus paying the usual rate for rental cars – so I usually opt to use points instead.  One of my favorite ways to get rental cars for free all over the world is to use my Chase Sapphire Card points.  For this trip, I needed a rental car to pick up in Florence when we arrive, drive it around for a few days while we're in Tuscany and then due to scheduling, we'll need to actually fly out of Rome at the end of our time in Italy.  While it can be sometimes an issue to return your rental car at a different location than you pick it up, with my Chase Sapphire points, it's easy!  For this rental car, picking up in Florence and returning in Rome a few days later, I paid 24,728 Chase Sapphire points and $0.  In other words, this rental car for several days was totally free!
Flight from Rome to London
I booked our returning flight below from London to LAX first, as I usually book the large flights at the beginning of planning a trip and then fill in the smaller ones as I go.  So when I started looking into options to get to London from Florence, I found a lot less options than if we flew Rome to London on the way back.  Most of the options from Florence flew into London City Airport, which is pretty far outside the city and since we'd be flying out of Heathrow early the next morning, I wanted to fly into Heathrow specifically.  After some research, I found it was actually just easier to fly out of Rome so I set our itinerary to return our rental car to Rome instead of Florence and we'll just drive through Tuscany that last day South and fly out of the Eternal City headed to Heathrow.  For this leg of the journey, we will fly British Airways and for one of our tickets, I booked the flight on my British Airways Avios points, paying 6,600 Avios + $27.50.  For Nick's ticket, I used my Chase Sapphire points and paid 6,832 points and $0.
Flight from London to Los Angeles
Just like at the beginning of the planning process when I booked our flights from New York to Madrid and had a large surplus of Alaska Airlines miles at the time, I also booked our return flights home while that large mileage balance was in my Alaska account.  Since we had the mileage and we were saving so much money on the rest of the bookings for this trip, we decided to splurge and upgrade to Business on the flight home as well.  We'll fly from London Heathrow on British Airways to Los Angeles direct in Business class lie flat seats.  For this leg of the trip, I paid 120,000 Alaska Airlines miles + $1,025.42 for 2 people on British Airways, a partner of Alaska Airlines.
Flight from Los Angeles to Portland
For our final leg of the trip, we'll have to fly the 2 hours home from LAX to Portland.  Since Alaska Airlines is our airline loyalty, we'll jump on the quick flight home on Alaska.  For this leg of the journey I had a $125 coupon code from a previous delay with Alaska that I used for my ticket bringing the total for my flight to $31.83.  For Nick's ticket, we used 20,000 Alaska Airlines miles and paid $5.60.
Total for Flights and Rental Cars for this trip :
$1,419.30 for 10 days in Spain, Paris and Tuscany including Business class airfare for the long haul flights.  Using points and miles for travel can greatly cut your cost of travel when used correctly.
The Credit Cards that make this possible:
Just to preface this next part, mileage credit cards can be an incredible way to travel the world for free or for way less than paying outright for things like flights and rental cars.  And when utilized correctly, credit cards can be a tremendous asset to your finances.  But also keep in mind, if you are the type of person that has a hard time with credit cards or feel the temptation to rack up bills you can't pay off, don't apply for the below cards that I am recommending.  If you're feeling ready to take advantage of all the perks that travel credit cards can offer, then here are my favorites below!
Chase Sapphire Credit Card 
I've had a number of Chase credit cards over the years and right now, I use the Sapphire card for personal use and the Ink Plus card for my business.  There is so much to love about the Chase credit cards but here are some of my favorite things about these cards for travel:
You get to double dip on points : When you book a flight through your Chase Sapphire points through the Chase portal, you actually still get to collect the actual airline miles while flying.  For example, if I'm flying from Portland to Seattle on Chase Sapphire points, I still get the actual Alaska Air miles in my Alaska account while flying even though I'm not paying for my ticket.
You can combine points with your family members and other cards : This is a feature I wish all credit cards would offer and one that keeps me using my Chase cards.  I have 2 Chase cards and Nick has his own Chase account on a Sapphire card but we can actually combine the points from all 3 cards into one account which makes our balances increase exponentially.
The look and feel of the Sapphire card : Honestly, our metal blue Sapphire card gets remarks all around the world when using it.  People love the look and feel of it and so do we!
You can apply for the Chase Sapphire card here.   New card owners get a 50,000 point bonus right now too!
*Note : To be completely transparent, the link above offers me a small commission if you go forward with your application but I honestly love this card and wouldn't recommend it if I didn't.
Alaska Airlines Mileage Credit Card
I've had the Alaska Airlines Mileage credit card, both the personal version and the business version for several years and it has allowed me to rack up a ton of miles to use on Alaska and airline partners around the world.  The Alaska mileage program is one of the best in the world in my opinion and generally takes less miles to fly for greater distances than other mileage programs out there.
You can apply for the Alaska Airlines Mileage Credit Card here.  New card owners get a 30,000 point sign up bonus now!
British Airways Credit Card
I've had the British Airways Visa for years now and while I don't use it a ton, I constantly rack up a decent amount of points.  One of my favorite things to use the BA Avios for are intra-Europe flights which you can get for a really small amount of miles as well as short term rental cars which are a great way to use small amounts of Avios points.  I definitely use the Alaska and Sapphire cards above more often, but if you are in an area where you might fly British Airways more often, this is definitely a great card to have.
You can apply for the British Airways Credit card here.  New card owners can earn up to 100,000 points when you apply!