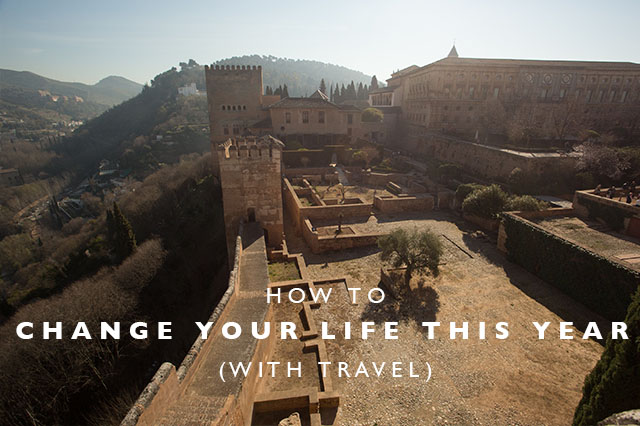 Ok, so we're a month into the New Year, it's February and have you really turned those travel resolutions into realities yet?  If you haven't, the good news is that you still have the whole year to do it.  But today, if you haven't booked that dream trip yet, here's how to change your life this year by traveling!
Take a chance.
I hear it all the time, "I'd love to travel, but…"  There is always a "but," something in your life that makes it harder to either spend the money or take the time to travel.  The first step in adding more travel to your life and letting said travel change your life this year is to fully let the idea of travel in.  When you get to the point where you just make it happen and take a chance on something new and amazing, you'll be able to jump at the chance instead of be afraid of taking a risk.  Travel is all about new experiences and pushing yourself, so take a chance and stop thinking of all the reasons you can't travel.
Save more money.
Obviously you need to have money to travel.  So start saving now.  Do you buy Starbucks every day or multiple times a week?  Maybe cut that back and put the extra in a savings account.  Clean out your closet and sell your clothes.  Call your utilities and see if there are ways to cut back in your monthly bills.  Set up auto transfers from your paychecks into a savings account.  There are so many ways to start saving in order to fund your travels, but you have to start now.  Figure out in your own life how you can cut back and do it immediately.
Pick a place you've always wanted to experience.
Maybe that dream spot is in your own country.  Maybe it's half way around the world.  Whatever the case, pick a place you've always dreamed of going and make that your goal this year to get there.  Make that destination your ambition and your drive to change your life and travel this year.  Knowing which spot will become your dream travel goal will help you in your path to getting there.
Book in advance.
It's one thing to want to travel and even start saving to make that a reality but you still have to have a plan of action and book in advance.  You'll get better deals and be able to pay off your trip earlier if you book in advance.  Watch flight deals and jump when you see a great one.
Get off the beaten path.
And finally, the true way of how to change your life this year with travel, when you do end up going on that dream trip, don't just shuffle through the guidebook steps with all the other tourists.  Get off the beaten path, take it all in, wander down streets that you're not sure of where they lead.  This is the best way you'll create a true dream trip that will change your life forever.