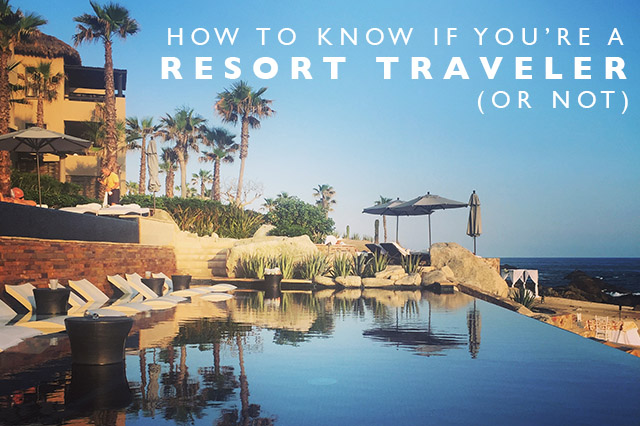 I've always been drawn more toward trips rather than vacations in terms of my travels.  I've always gone for trips where I explore cities, drive back roads through beautiful scenic areas and have a lot of control in what I do and where I go.  For that exact reason, I had never really done a full "resort vacation" in my travels and really wanted to experience that side of travel to see how I liked it.  When we were looking into a trip for our 10 year anniversary and my birthday this year, we decided to do a relaxing vacation instead of a "trip" somewhere to see if we liked it and to experience something different.  I definitely concluded what type of traveler I am after this Mexico trip, but before I get to my own reactions, here's how to know if you're a resort traveler or not!
Do you like to relax, lay by the pool and read a book?
If the answer is yes, then a resort vacation is perfect for you!
Do you like to have control over where you eat and the activities you partake in?
If the answer is yes, then a resort might not be the place for you.  Even though resorts tend to have multiple restaurants and activities, you definitely have more control and flexibility if you travel on your own.
Do you like hotels within cities to explore an area or far away to feel more secluded?
If you prefer hotels within a city, then a resort might not be for you.  Though if you like the seclusion, choose a resort vacation for the peace and quiet.
Do you care about higher prices at a resort than you would in town?
If you don't want to be gauged with food and drink prices, a resort might not be the place for you.  In a city, you have many more choices and can choose how much you want to spend on food and drinks.
Do you like a pool, spa and other amenities in your hotel?
If so, then a resort is the place for you!  Most resorts include many amenities included in your stay.
So…. am I a resort person or not?
Personally, I found out pretty quickly that I'm not a resort person.  I prefer having more control over my travels, being able to choose where to eat out of a multitude of options.  I also didn't like being so far out of town in Cabo and having to take a 20 minute taxi to get anywhere (which also really added up in prices), instead of being able to walk everywhere and take it all in.  I'm also not really a beach or pool person so the amenities at a resort are somewhat lost on me.
Now with that being said, I guess it does depend on the resort and location itself.  For example the Oberoi Udailvilas in Udaipur, India that we stayed at a couple years ago was a resort with full amenities and amazing grounds, but also right in the city of Udaipur and very easy to go out and explore.  So perhaps, my ideal situation are some of the amenities of a resort with the option to go out and explore close by the hotel.
What do you think… are you a resort traveler?