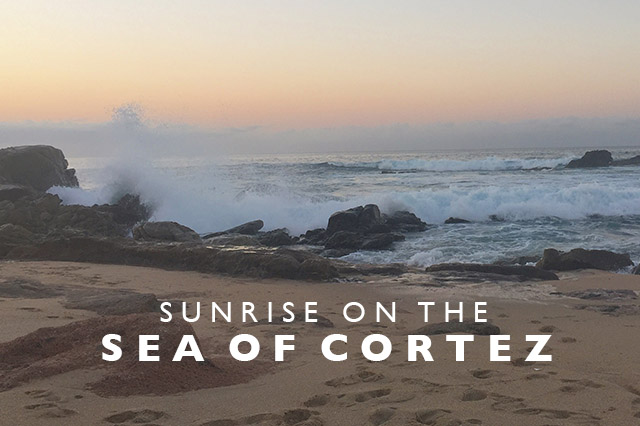 Our first morning in Mexico, we awoke early.  Seeing as the sun was about to rise, we threw on some clothes and headed out of our casita at the Esperanza Resort and down the short distance to the small secluded beach on the property.  Looking out over the Sea of Cortez, we watched the early dawn colors fill the sky, as the sun rose over the surrounding cliff-sides and spilled a sea of pastels across the sky.
Even at 7am, the heat and humidity were sweltering, but for a moment, as Nick was taking photos, I sat on a rock on the sandy shore of the Sea of Cortez watching the sunrise at another place in the world.  I'm often up for the sunrise (the perk of being a photographer's wife), and I'm always taken aback by how peaceful the world is at the point in the day.  No matter if we're in a beautiful landscape or in the middle of a busy city, sunrise is a point in the day when the world is quiet, when few people are out and when for a moment, everything seems at peace.
Our morning watching the sunrise on the Sea of Cortez was no different and no matter the destination, I highly recommend you to get up early and watch the sun rising over the world.  It's a time of day when traveling turns into something even more magical, a time of day when we all start over, a time of day that allows you to refresh, to put aside all of yesterday and move forward into the dawn colors.
Headed to Mexico?
Take a look at the rest of our archives on Los Cabos here!