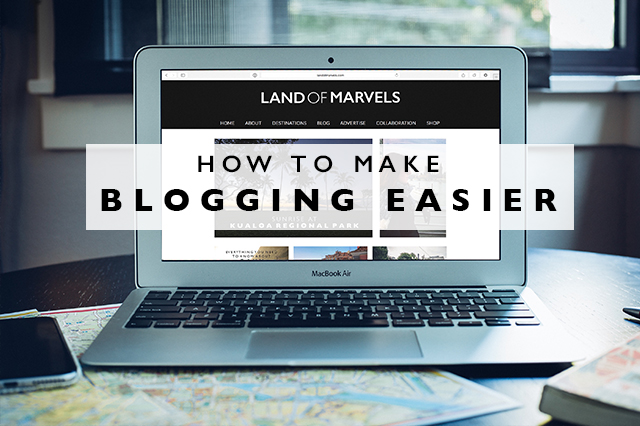 I hear a lot "how do you still post 5 times a week even with other jobs and when life is crazy all around?"  The truth is, though it might seem this way on here, my life is pretty crazy as of late.  With running my business, my day job as an interior designer and teaching part time, often I don't even have time to look at my blog daily.  But I always manage to post five times a week because I've done it long enough now, that I've figured out a schedule that works for me that I'm able to keep up with even on those days when life is flying at me from all directions.  So if you're wondering how to better fit consistent blogging into your life, here are some tips how to make blogging easier and not so time consuming.
Schedule Posts 2-3 Weeks Out
My secret to "doing it all" is scheduled posts.  And I'm not talking about 1 or 2 posts in the queue, I always have at least 2-3 weeks scheduled out.  When I have a few hours to commit to my blog, I sit down and write a bunch of posts and then schedule them for the weeks ahead.  Granted, I can't always do this as when we get back from trips, sometimes I'm writing in real time since we're still working on photos and such behind the scenes, but generally, I at least have titles set up and outlines written for posts that far in advance.  That way when life is really crazy and you can't even look at your site during the day, your blog is running itself behind the scenes.
Switch to WordPress and Use the Plug-In's
I switched to WordPress from Blogger earlier this year when I transitioned into Land of Marvels and I'm so glad I did.  While at first it was a little weird to use, now I can't imagine not using it.  It's so easy to control every setting of your site and add things as you need.  I also love the plug-in's on WordPress like SEO helpers and such that can really help to push your site farther.
Have a Well Designed Site
This is a huge one!  When you have a well designed site that runs smoothly and it's easy to find things, it makes your life so much easier!  There are so many times when my blog is really just running itself behind the scenes of my life and I might not even check it for a few days since everything is running smoothly.  Hire someone who knows what they are doing (I love Amanda!) and set up a site that requires very little maintenance and that also has a timeless design so you don't need to update all the time.
Use a Common Graphic on All Posts
This is something I switched to a few months ago and it has saved me so much time!  Now all my graphics for the top of posts are pretty much the same template.  I might add a line here or there, or a light background behind the text, but the text itself is the same throughout.  It saves me so much time on the backend when I'm putting posts together and it gives a unified look throughout as well.
I'd love to hear, what save you time and makes blogging easier?
Looking for more posts on Blogging?
See our archives here for Blogging posts.