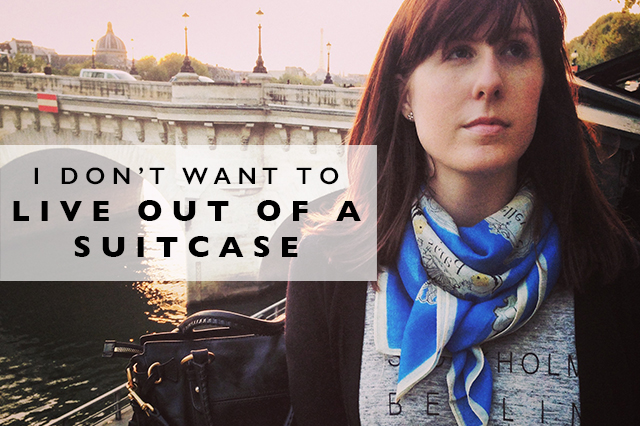 Not long ago I came across this quote, "Travel does not exist without home…if we never return to the place we started, we would just be wandering.  Home is a reflecting surface, a place to measure our growth and enrich us after being infused with the outside world." – Josh Gates
Let me start this by saying that I've had this post in my queue for months.  I wrote it back in the early Spring but never seemed to feel like I had gotten across quite what I was trying to say.  This post isn't meant to discourage anyone from traveling the world, as I myself have a long standing love affair with travel.  But in essence of that, what I'm trying to get across with this post is that having a home is a valuable thing too.  I think all too often in the travel blog community we push the idea of travel so hard that we often overlook the value of building a home and a career in a place that you love just as much as travel.
It often seems like every other travel blogger out there is giving up everything they own to travel the world out of a suitcase.  It seems in many directions I turn, this is the only option laid out for those of us that want to see the world, that want to experience all that travel has to offer.  The thing is, it's definitely not the only option and I wish that was more promoted in this industry too.
I travel a lot (and love it) and yet it's that feeling I get when we're on the plane home that still gives me butterflies.  I look forward to coming home to Portland, to my apartment and my kitchen and our memories in photos all over the walls.  I look forward to seeing my "regular" people on errands and socializing with friends.  I look forward to coming home to my work, to my passions and to my everyday routines.  That feeling of love for my home and my home city, is one that is absent from a lot of blogs out there in the travel blog community.  You don't have to pack up your life and leave everything and everyone behind to see the world.  It's possible to have a steady home (wherever that may be) and a career and to travel.
The thing is, seeing the world is great.  It's truly a spectacular experience.  Travel will change you.  It will open your eyes and your mind and your heart.  It will offer experiences that nothing else in the world can.  Travel is incredible and I urge everyone and anyone to do it, as often or as little as you can.  I am the biggest proponent of travel and I will always push for it, for myself and for others.  But the one thing travel can't teach you is the feeling of a home.  It can't teach you the joy in the everyday things like grocery shopping and cooking in your very own kitchen.  It can't teach you the fulfillment in small projects to improve your home.  It can't teach you the bliss of moments laying on your very own couch next to someone you love and watching stupid tv shows on a Friday night.  So at the end of the day traveling the world full time without a home to call your own might be wonderful for some, but without a home you adore to come home to, is it worth it?  I'm not entirely sure, but for me, I know it wouldn't be.