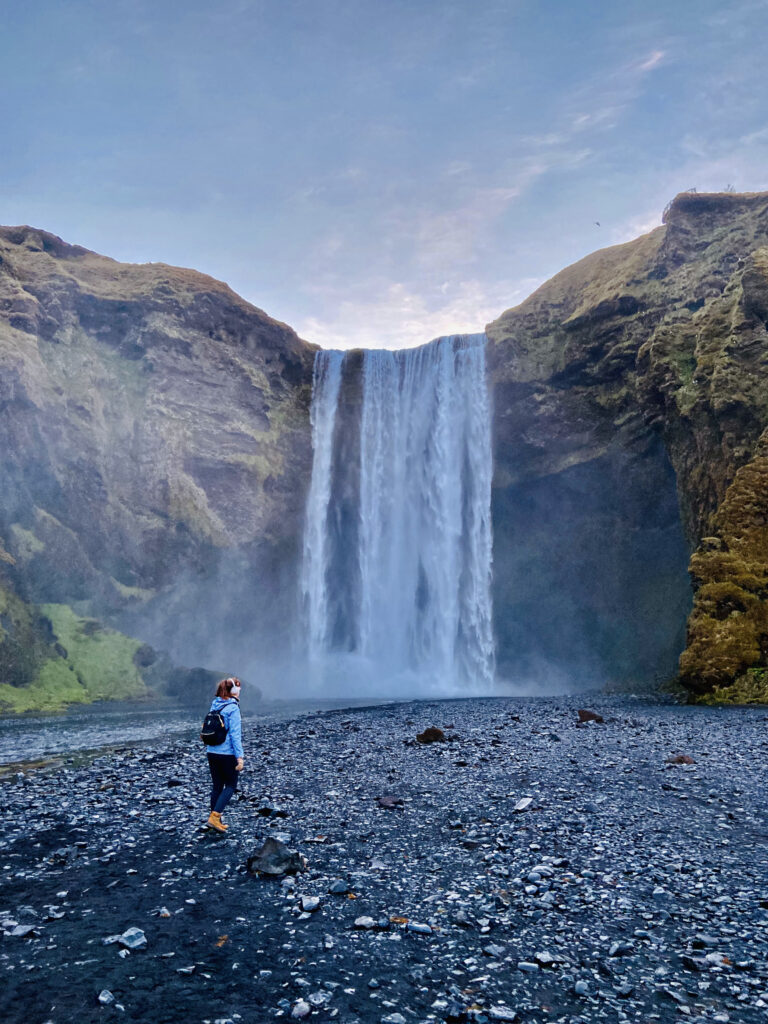 Outfit Details:
Boden Checkered Rain Coat | Gap Navy Blue Cargo Pants (similar)
Gray Ear Muffs | Black Anello Backpack | Tan Insulated Hiking Foots (similar)
One of my all time favorite things to do when traveling is to explore places when there aren't a lot of other people around.  Whether that's getting up at sunrise to take in cities that are usually full of tourists or adventuring around Iceland under the Midnight Sun in the Summer when the sun never really sets.  It's also a great way to use your jet lag to your advantage when you're traveling and see amazing spots in amazing light with literally no one else around.  When you're in Iceland, there are a lot of places to see but some are especially amazing under the Midnight Sun at 3am when it's light outside and everyone else is sleeping.  Here are my favorite spots to take full advantage of the Midnight Sun in Iceland!

skogafoss
 waterfall
This immense and beautiful waterfall in the South of Iceland is one of my favorites in the country but it's usually packed with tourists and tour busses during the day.  At 3am in the Summer though, no one is around and you'll have it completely to yourself.  This is an amazing spot to take advantage of the Midnight Sun if you're staying in the Vik area as the waterfall is only about 20 minutes from town and you can explore all you want with not another person in site!

diamond beach and Jökulsárlón
If you're staying farther East in Iceland, Diamond Beach and Jökulsárlón are also heavy tourist spots during the day.  But get up early and head there under the Midnight Sun and you'll witness these amazing natural areas totally alone.  We also found that the ice moves so much that what you might see here during the day time might be totally different at night so it's so special to see it in different times of the day.

godafoss Waterfall
If you're headed up to the North of Iceland, this famous Waterfall of the Gods is an amazing spot under the Midnight Sun.  I vividly remember standing over the waterfall in late May at 2am, as light as day, and no one else around for miles.  It makes seeing these natural monuments even more spiritual!

Vik's Black Sand Beaches
In Southern Iceland, Vik's black sand beaches are usually dotted with people during the day.  But under the Midnight Sun, the colors of the black sand and the aqua water combine into an even more beautiful array alongside the experience of enjoying them completely by yourself.

Sun Voyager Statue in Reykjavik
If you're staying in Reykjavik, an amazing spot to wander to if you're jet lagged in the middle of the night is the Sun Voyager statue on the waterfront of the city.  It's so pretty seeing it against a pastel-colored sky under the Midnight Sun.
Headed to Iceland? 
See more of our content on Iceland here!