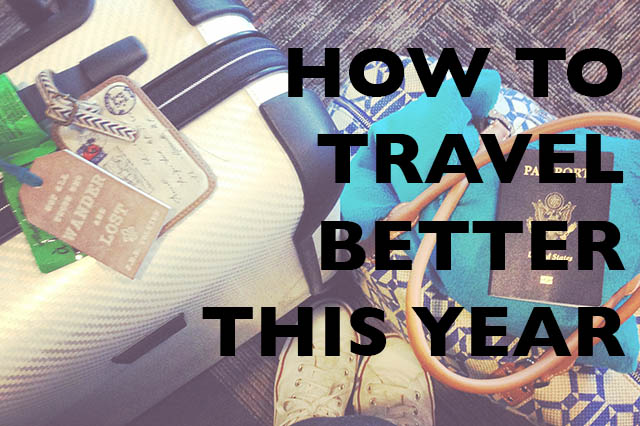 Each year I feel like I learn a million lessons while traveling, lessons that come often when plans go awry or when a trip feels a bit more like work than it should.  Traveling is hard work, there is no doubt about that.  It's exhausting, sometimes unsettling, and while I totally whole-heartedly believe that the benefits outweigh the negatives,  it's still something that requires us to constantly update our travel lessons as we go.  I'd consider myself a pretty seasoned traveler at this point and yet, each and every trip I go on, I feel like I learn a new lesson for future trips.  Here's my top 6 tips for how to travel better on your next trip and throughout the year ahead.
Invest in Good Luggage 
One of the top tips you'll hear from travelers over and over again is to invest in good luggage.  Those cheap suitcases you pick up somewhere for $40 might work for a trip or two, but rest assured, over time and with repeated use you'll notice the wear and tear very quick.  I invested last year in the Tumi Tegra Lite carry-on and it's one of the best purchases I've ever made.  While an investment, the ease of traveling with this bag has made my trips that much easier and I know I'll have it for years to come because it's built so well.
Use Points and Miles to Cut Cost
It's taken me a while to wrap my head fully around the options out there to use credit card and mileage points to pay for travel successfully but I've finally figured out how to use them best for my own travels.  I've found that one ways flights, hotel stays and rental cars work the best for me in terms of leveraging my points for free travel.  Everyone will use them differently for what works best for their style of travel and give yourself time to learn the ins and outs but following blogs like The Points Guy really help to speed that education along.
Reach Out
Another thing I've really put into action this past year with my travels was to reach out to places we were heading such as airlines, hotels or restaurants in destinations we were traveling to and asked to offer services in exchange for reviews and publicity.  As bloggers, with large social media followings and the power to make or break a part of our trip as we write about it very publicly, companies are often very willing to work with you to ensure a good review of their service.  I've reached out and worked with numerous airlines, hotels and restaurants in the past year and I can't wait to work with even more in 2015.  The trick to this is to have a system setup for the exchange before putting it into place on your site and know what you can offer them before reaching out.  After that, all it takes is a nice email.
Learn a language
I can't tell you how many times knowing another language (or even bits of one) helps while traveling, even to places that you might not expect it to be handy.  Learning a language helps our brain pick up on things differently and while traveling, you'll pick up words or phrases of random languages as you travel just by opening your mind to that idea.  Take classes, learn on your own, or keep up with a friend who speaks the language you're learning and you won't be sorry for it.
Use Your Time Off (All of It)
I recently read that some 40 million vacation days were left over by Americans last year, unused.  That to me is totally absurd.  Those vacation days are there for a reason; we work ourselves so hard (myself included) that those days are meant to be our stress relievers, our days off to see the world, to lay at home in our pajamas and watch bad TV or to simply unwind.  For me, I jump at the chance to see as much of the world as I can every year and using my vacation days helps me do that… so if you want to travel and say you don't have the time, figure out how many vacation days you have and use EVERY SINGLE ONE!
Learn to Use your Camera
I'm guilty of this a lot because I have a photographer usually traveling with me (Nick) but it's so important.  Read the manual or read blogs with tips for your specific camera and learn to use the features on it.  You'll not only take better pictures but you'll be quicker with it on the go and be able to capture some amazing memories.