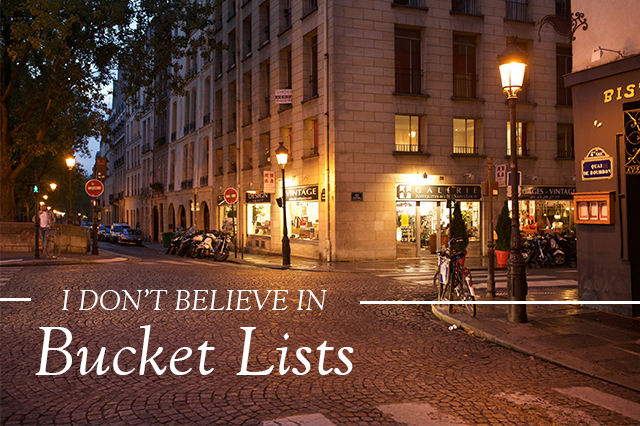 I know this might sound strange, but I don't subscribe to the bucket list idea.
The idea of creating this list of things to do before you die has been around for a while now and especially in the blogging world, it's really taken root.  I began thinking about this a few weeks ago and actually wrote this post en route to Hawaii last month but it's taken me a while to get it right before posting.  After I saw Bailey's similar post last week, I was even more encouraged to post my take on the bucket list idea because I have a lot of thoughts on the matter.  So after multiple drafts, here's why I don't believe in Bucket Lists…
Sometimes it seems the travel blogging world is just full of counting how many countries you've been to and how many points you've checked off your list and I have a hard time with that for many different reasons.  I've traveled a lot, I've lived overseas and when it comes down to it, I really couldn't give you a number of countries I've set foot in mainly because I've never sat down to figure it out.  I couldn't tell you which places have been bucket list items because I've never had a bucket list, just a curiosity and a passion to see the world we call home and live each day I have to the fullest.  I've never subscribed to the idea that there are a definite number of things I have to do and see before I die or that if I never see the Great Wall of China, my life wouldn't have been complete.  I subscribe to the idea that while yes, there are definitely an abstract number of places that are on my mind that I'd love to see and experience in years to come, but I feel like sometimes the idea of just checking things off a list does an injustice to the idea of travel and exploration in general.
I'm not saying this to go against anyone who loves checking things off a list or lives by the idea of a bucket list, but for me personally, I believe that experiences while traveling that come up randomly, places that inspire you that you never thought would, living in the moment while exploring an unknown place or a place not on your list…those things you can't necessarily plan for and often just happen while traveling.  Those are the things in my experience that are so much more important and so much more worthwhile than having a box to check.
Some of my favorite things I've experienced while traveling haven't been those bucket list items that everyone has like the Taj Mahal or seeing the Eiffel Tower.  Those monuments aren't necessarily the best things to see in the world and are often not as incredible as the lesser known spots that you might skip in order to make it to your bucket list items.  For some, places like the Taj Mahal and the Eiffel Tower would be made a priority specifically for a bucket list item to check off, but for me, a place like Udaipur (a lesser known city in India) or the lesser known parts of Paris have been much more substantial and life changing experiences and could potentially be left off a travel itinerary in search of those places everyone knows about.
And so here in lies the rub.  Bucket lists in general can serve a purpose to help us get to places in the world, they can push us forward and help us establish goals but there is so much more to the world that just checking boxes off a list of places everyone wants to see or counting the countries you've visited.  It's often the unknowns, the places like Udaipur or the back alleys of Paris that are more worthwhile for your life journey, that will show you more beauty and inspiration than many of the boxes on a bucket list. Checking boxes and counting countries is fine if it works for you, but also remember to treat each box as more than just a square on paper.  Each place on that list is also a vibrant culture and memorable moments, they are people and places and experiences and sometimes in an effort to get as many checked boxes and see as much as possible in our lives, we forget to look around and take in all the things that are unknown and possibly more important.
Just a reminder that there is only a week left to use the current discount on ad spots!  Now through the end of February all Land of Marvels ad spots will be 25% off with code "landofmarvels" so head on over and get yours now!