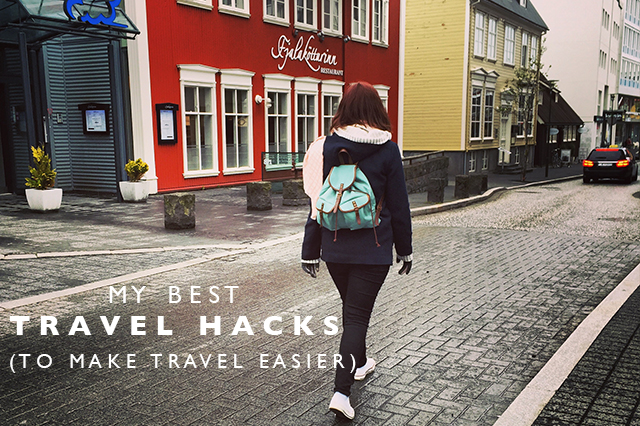 Over the years of traveling, Nick and I have gotten really good at making travel easier.  We've come up with a series of "travel hacks" if you will that allow us to speed through airports faster, get better deals and generally enjoy travel more because it's easier.  When we have to do things the long way like checking a bag at the airport or having go to the counter to print off boarding passes, we realize how difficult travel can be if you don't know how to get through faster or easier.  So here are my best travel hacks that I've come up with over the years to generally make travel easier (and quicker!).
Skip the lines – get TSA precheck and Global Entry.
If you haven't already, go right now and sign up for Global Entry.  For $100, you get 5 years of skipping lines at airports and border crossings.  When you qualify for Global Entry, you are pre-screened for security so you'll get to use TSA precheck lines at airport security, NEXUS lines at border crossings by car and when you return to the USA from abroad, you get to bypass immigration lines (which can be really long at big airports) and head straight to the Global Entry kiosk.  I can't even tell you the time we've saved over the years since getting Global Entry about 3 years ago.  It's the best thing we've ever done travel-wise!
Carry on your luggage – head straight to security.
For any trip up to 10 days (if there aren't any other random reasons that require a checked bag) we always carry on our luggage.  I can't say enough about our Tumi hardside roller bags (which are definitely an investment but well worth it if you travel a lot) and we can pack a lot and everything we need for up to 10 days.  By carrying on, you can bypass a lot in airports, plus you know everything is with you at all times and not having to worry about losing bags.  My favorite thing though about carrying on luggage is that you can bypass check in at an airport and head straight to security.  With mobile boarding passes (see below), you can show up to the airport way later than you can if you have to check in and wait in line.  And if for some reason you have to catch another flight or plans change, you have everything with you and there is no need to worry about your checked luggage.
Use mobile boarding passes.
It's 2015 and everyone has a smart phone, so there is no need to go to check in or a kiosk to print off your boarding pass anymore!  Almost every major airline lets you check in online and on their apps and download mobile boarding passes.  I love saving mine in Passbook (or I guess now it's called Wallet) on my iPhone, that way it's super fast to pull up when going through security.  No extra paper to carry around, just your phone which you have anyways.
When you get on the plane, figure out what time it is at your destination.  If it's night, then take a melatonin and sleep.  If it's day, try to keep yourself awake so you'll sleep when you get there.
Because we're usually traveling someplace for not a long period of time, we want to get on local time really fast.  So I always figure out the local time when getting on the airplane and then try to adjust my schedule accordingly.  Sometimes it's really hard, but if you push yourself on the plane, you'll be ready to go for whatever schedule when you land!
Always bank your miles and then use them!
I hear all the time that people fly and don't even bank their miles!  That's such a waste!  No matter what airline you fly, even if they don't all go to the same accounts, sign up for a loyalty account and bank those miles.  You never know when you can use them for something.  And if you fly with the same airline all the time and have a bunch of points in your account, don't just let them go to waste, use them!  I see people all the time with like 50,000 points in their account (or more) and don't think they can use them for anything… when in reality you can get a lot out of that!
Bring a large scarf for a blanket.
I never travel without multiple scarves.  I usually wear one and bring another big scarf to use as a blanket.  Airplane blankets are static-y and gross (if you even get one), so bring your own which can double as a scarf at your destination!
Evian spray… worth it!
I know this sounds so uppity, but the Evian Spray you see the celebrities using when they fly, it's totally worth it.  On a long flight, your skin feels gross and everything dries out.  So when I get on a long haul flight, I immediately take off any makeup and spritz my skin with Evian spray every hour or so.  It's amazing what a difference it makes!