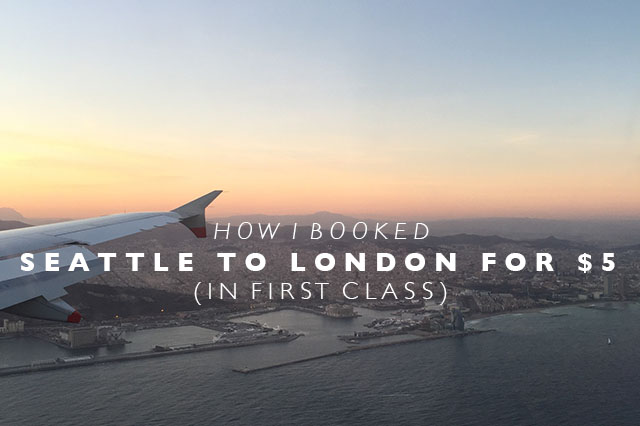 In this new series, we'll cover great deals on hotel and airfare bookings.  Whenever I book a great deal on travel, I'll post about it and let you know how I did it, so you can book your own amazing trip for less money!  There are so many ways to save major cost on travel if you know what to look for and how to do it, so follow along in this new series as we document some of the best deals we've found in our own travel adventures!
We've started looking at our 2016 travels already around here, looking at where we want to head next year and when we'll be planning some of our larger trips in the new year.  So after NYC on New Year's Weekend (which I booked for $5), we'll be heading to Sedona and Antelope Canyon in February and then will take our annual Spring trip later than usual in April of next year.  We're looking at stops in Paris, Rome, Tuscany and Greece (if all goes according to plan).  Long story short, we booked our first one way section of the trip starting in Seattle and ending in London, for only $5 each, and the kicker is… the whole journey will be in first or business class!  
To give you a full synopsis of how we got this amazing fare, I have to go back and start at the beginning because it actually took a lot of planning.  When we got home from our Spain trip in March, we started really thinking about how we could start to maximize our points and miles for international travel going forward.  We talked about starting to really travel with one main carrier, instead of always just looking for the cheapest fares.  Since we travel so much, it has become increasingly important to us to have great flight experiences, so Nick and I both came to the conclusion (after much research) that American would be the best International carrier for us to start flying as our go-to airline for international flights.  Their rewards program generally seemed to be the best and their credit cards were having a very lucrative 50,000 point bonus when we signed up.  That 50,000 bonus is a one way ticket in their first class cabin, so basically after meeting the spending requirement we each had a first class journey abroad.
Now saying you need 50,000 points for a mileage journey is all fine and great, but finding a route that works for you on your dates and times is another thing.  We're pretty specific on when we can travel since we're working around a certain amount of vacation days.  So I started researching AA flights, looking at flying from LAX and Dallas and Seattle, and flying to London, Paris or even Rome.  At the end of the day, it turned out the best option for us was leaving Seattle bright and early in the morning, flying first class to JFK, then having a layover in New York and then leave on a red eye from JFK to Heathrow with fully lie flat seats.  When we arrive, we'll hop over to Paris, which I booked fully on British Airways Avios points, and then be in the city of light for a few days before heading on to Italy.
Long story short, it's not the route we'd normally take and we'll have to stay in Seattle the night before we leave, but it only cost $5 + 50,000 AAdvantage points and we'll be in first and business class the entire way, which totally makes up for any of the scheduling hassle.  In short, if you're looking for a great rewards program for an international carrier, American is definitely one to take a look at.  I can't wait to fly in their upper classes and enjoy the long trek to Europe in comfort for only $5 out of pocket!
Heading to London?  
See more posts about London in our archives.