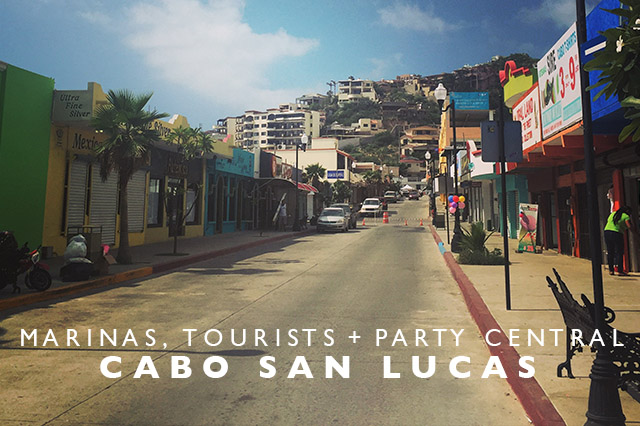 I had heard a lot of stories from friends and people I know about Cabo San Lucas before we went.  It is a self-described party town with pushy shop keepers and time share workers endlessly hassling you.  Everything I had heard ended up being true and I wouldn't choose to go back to this part of Los Cabos, much preferring the quiet streets of San Jose Del Cabo at the other end of the area.  With that said, we spent a few hours wandering Cabo San Lucas, mostly dying from the heat and humidity and looking for a place to eat.
We were hounded by restaurants as we walked by, "come in, have a beer, it will cure your hangover."  I wanted to scream back, "I don't have a hangover, leave me alone."  The whole town felt very aggressive and the overall feel was that if you don't go there to party, there isn't much else to do.
Actually though, the scenery at this part of Cabo is gorgeous.  Cabo San Lucas is backed up to beautiful green mountains and sitting on a lovely marina, so it's actually kind of sad that the town has been overthrown with nightclubs, bars and posters of bikini-clad girls feeding alcohol to men.  It definitely wasn't a place I loved or would return to, but definitely worth while seeing as many places in the world are.  Sometimes you don't like a place, but seeing it and coming to your own conclusions is worth the effort to explore a bit.
Headed to Mexico?
Take a look at the rest of our archives on Los Cabos here!