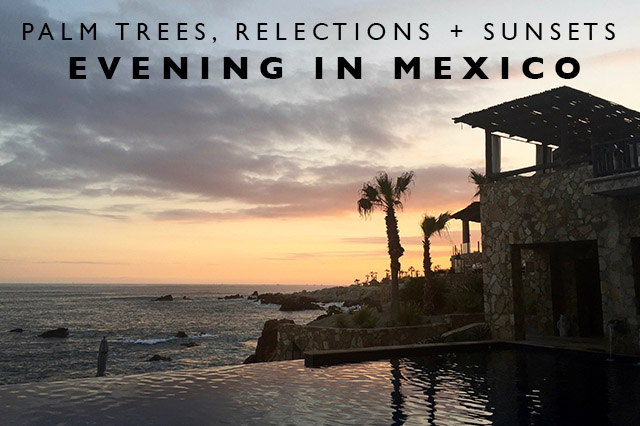 One of my favorite parts of our long weekend in Mexico was watching the sunsets over the Sea of Cortez.  Both evenings we were there, we wandered through the Esperanza Resort property on our way to dinner as the sun was setting and it was a beautiful site.  The evening in Mexico was also when the heat started to dissipate and so it made it even nicer to enjoy the scenery without the intense heat of the day.
The Esperanza Resort is full of vistas that show off the beauty of the area and there are many places to watch the sunset from.  My favorite spots ended up being the smaller, less grand spots on the property; places where the reflections in the water of the infinity pool or fountains reflected the pastel colors in the sky or where the reflections of the palm trees around the resort created long shadows against the water and sidewalks.  I was blown away by the natural beauty of Los Cabos (something I wasn't expecting) and I felt it was the most beautiful at sunset, when the bright sun of the day was replaced with beautiful soft reflections, shadows and soft colored skies.
Headed to Mexico?
Take a look at the rest of our archives on Los Cabos here!