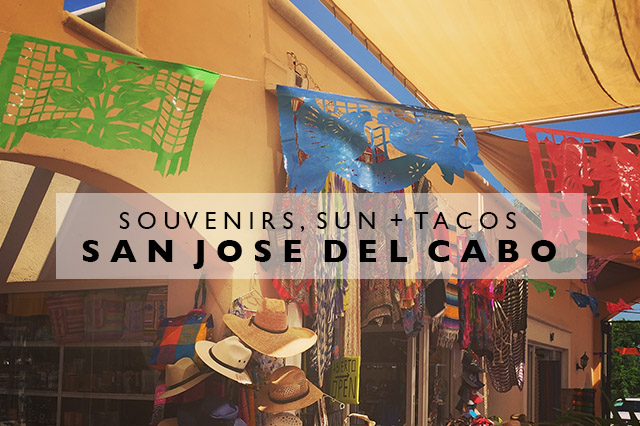 On our first full day in Cabo, we ventured into the town of San Jose Del Cabo.  About 25 minutes drive from the Esperanza Resort where we were based, we took a taxi into town.  Our destination: Plaza Artesanos, a group of stores selling authentic Mexican souvenirs and trinkets.  We wanted to at least see a little bit of the town itself while in Los Cabos (which describes the general areas with both San Jose Del Cabo and Cabo San Lucas) and this was the perfect place to start.  Selling everything from clothing to silver jewelry to Mexican glass and clay dishes, you can pick up any souvenir you wish here.  The shop owners weren't too pushy as well, which was a nice change from Cabo San Lucas and we wandered the shops for a bit, picking up a few souvenirs.
Even though we hadn't had lunch yet, as we wandered the shops we were dying from the heat and humidity and stopped for a quick ice cream at a local vendor.  A brief stop in air conditioning and cool ice cream helped us regroup and then we headed out to the main road and wandered back to a mall/group of restaurants we had seen on the way in.  We ended up stopping at a place called Ten Tu Tacos and immediately ordered a bunch of different things.  It was here that I had the best fish taco of my life, literally I'm still thinking about it over a week later.  The others were great too, but if you're in this area and end up going here, DO NOT MISS their fish taco.
After a nice leisurely lunch (which actually ended up being our favorite meal of the trip), we ventured back out into the heat and grabbed a nearby taxi to take us back to the Esperanza Resort.  Even though we didn't get to explore San Jose Del Cabo as much as I would have liked, we definitely liked it a lot better than Cabo San Lucas and if in the area again, I would defiantly stay closer to this little town as it felt much more authentic.
Tips for San Jose Del Cabo:
-The locals quote everything here in US Dollars, but we had pesos and that worked fine too.  Just have an idea of the conversion rate so you don't get ripped off.
-When we were there in mid-October, the heat was extremely overbearing, so be ready for extreme heat and humidity while there and adjust your clothing and schedule accordingly.
-Bring a map.  We didn't have a plan of what we wanted to do on this trip and I wish I would have done a bit more research and brought of map of the area to get around better.
Headed to Mexico?
Take a look at the rest of our archives on Los Cabos here!