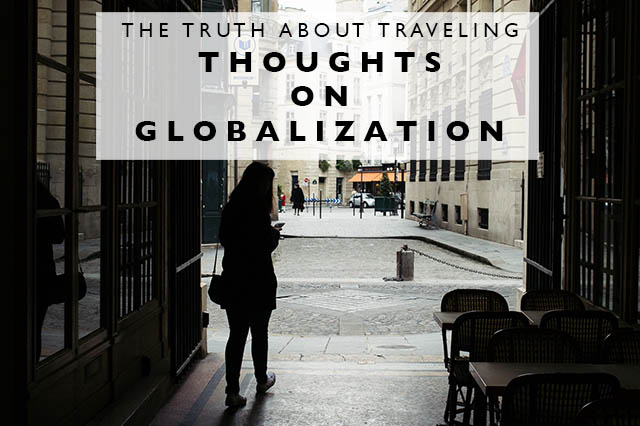 When we were living in Saudi Arabia in the 80's and 90's, we felt like a fax machine was the best invention ever made because we could communicate almost instantaneously with family back home in the US.  And back then we'd have to buy boxes and boxes of stuff when we'd be home in the US over the Summer and ship it all back home with us because there was so much we just couldn't get outside the US.  I'll never forget those hours upon hours we would spend in customs in Saudi upon arrival, with all the airport guys going through our boxes – boxes upon boxes – as the Saudi desert heat was wafting through open airport doors.  Those are some of the most poignant memories that I have of living overseas, of them going through and finding VHS movies and taking sharpie to any skin that the actress on the front might be showing or my dad trying to be buddy buddy with the guys and sharing his limited knowledge of Arabic to try to get it going faster.
That might seem like a strange story, but it's something that goes to my larger point here today.  Back then, we lived our day to day lives in Saudi Arabia with no instant communication with people back in the US, we didn't have Amazon to ship us whatever we needed in the moment, we didn't have email, we didn't have worldwide shipping for cheap prices and short wait times.
The world isn't like that anymore.
And while yes, technology has improved so much for our lives, I do wonder often what it's taken as well.  In Paris this most recent trip we stopped by Laduree for macarons, one of our go-to's in Paris.  And I don't know if was just us, or Laduree that day, but it sort of hit me… the magic of the Parisian macaron has worn off for us.  We can now get pretty genuine Parisian macarons here in Portland at any number of places, we can get homemade Italian pasta at any of our genuine Italian restaurants, we can get amazing Thai Iced Teas and Won Ton Soup from our Thai place up the street that tastes straight from the markets of Thailand. And I wonder, has globalization overtaken that experience in a foreign country?  Do we have everything at our fingertips all the time, whether in our own cities or with overnight Prime shipping from Amazon that some of the magic of travel experiences have been lost?
Sometimes I wonder has the world become too small?  Is the shrinking network of this planet causing us to not have to go to Thailand to experience incredible Thai food?  Is it allowing us to bypass Laduree in Paris because we've had so many Parisian macarons at home?
Of course, it's obviously really nice to have those things at home.  And it's great that the world is collecting more and more together to share everyone's own cultures, foods and experiences in different places.  And of course, who of us hasn't ordered something overnight on Amazon Prime instead of searching five million stores to see if we could get it somewhere else locally.  But I think as travelers and citizens of the world, it's also important to think about what we're giving up for this trade off, what that truly authentic experience in another country is really worth.
I don't have any idea what globalization will continue to expand into in the years to come or how it will fully affect us, but I do know that sometimes I wish the world was a little bigger, that sometimes everything wouldn't be so easy because sometimes, just sometimes, I'd love to know that to get that incredible Thai Iced Tea and Won Ton soup, I'd have to jet off to Thailand, because at the end of the day, that rush, that drive, that's what makes us learn and that's what forces us to see more of the planet we call home.