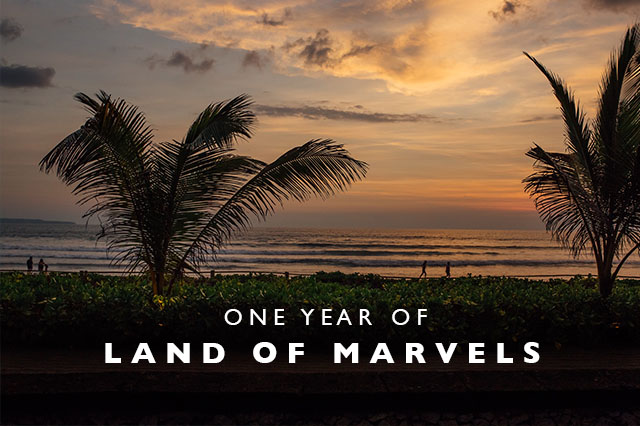 A year ago today, I morphed my previous blog title True Colours into Land of Marvels, a creation I came up with in the Summer of 2014, an idea that transformed into this little space on the internet.  A year ago, I launched the new site and the new name, not sure of where it would go, not sure of who would follow along, not sure of where the year would lead me.  And here I sit a year later with thousands of followers, loyal readers, and people that I've come to love and enjoy in this community.  Here I sit a year later and looking back, after one year of Land of Marvels, I've realized a few things about life, about travel and about everything in between.
I've learned that this community of bloggers, of readers and fellow travelers is a wonderful support system.
I launched Land of Marvels during a difficult time in my life, as my mom was going through cancer treatments and a few months later my Grandpa had a severe stroke.  It was a stressful time for myself and my family and the support I received through this blog and my Instagram account truly made me feel like I had an army of support.  People I had never met were praying for me, people I know only by a first name or an online username were offering their support and their thoughts.  This community truly is incredible and it's why many bloggers continue to blog, because of the support we find here amongst like-minded people around the world.  It's a huge reason I'm so thankful for Land of Marvels and I continue to find such strength in this community I feel so lucky to be a part of.
I've learned that travel is amazing, but it's even more amazing to share my experiences to help others.
One of my absolute favorite things about Land of Marvels is when I hear from readers that they took my advice or visited some place I talked about on the blog and how my tips helped them plan their own adventures.  My first goal on Land of Marvels is always to share information not only about amazing places around the world, but how to help you attain those adventures for yourselves.
I've learned to appreciate travel differently and to see the world through new eyes.
In the last year, my view of travel has changed.  And while a lot of that is due to getting older, to seeing more of the world and getting more accustomed to it, a big portion of that is also due to Land of Marvels.  Knowing that I'm bringing home information to share on Land of Marvels from my travels has increased in me the curiosity to find out more, to see more, to see more deeply so that I can share it with the world.  I want to see the truth about the world and I want to share it, so I delve deeper than I possibly would on my own without this blog and I love that Land of Marvels holds me to a certain standard when I travel, which in the best possible way, pushes me further.