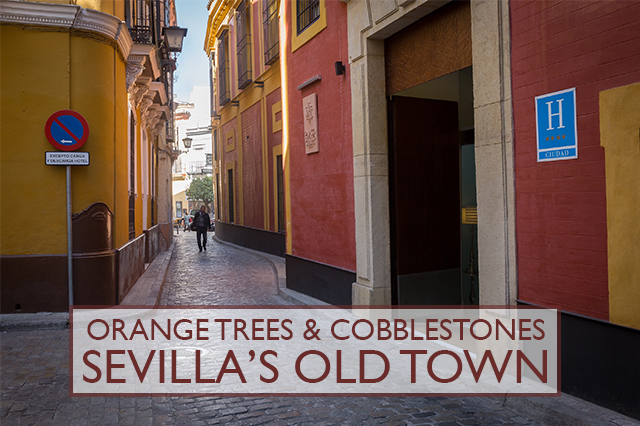 After our morning spent taking in Sevilla's tourist attractions like the Giralda Tower and the Real Alcazár, we wanted to get a better taste of the rest of the city, so we headed out that afternoon (after a siesta of course) to see the rest of Seville.  The city is really walkable and really not that big so it's easy to cover a lot of ground in just a few hours.  We wandered down to the Plaza Nueva, down cobblestone streets lined with orange trees.  We took in the scenes of plazas and locals heading home from work, then down toward the Canal de Alfonso XIII, stopping to take a look at the famous bull fighting ring, taking in the Torre del Oro, the last major Islamic building in the city, and then found a spot along the banks of the water to take in the sunset.  It was one of those magical travel afternoons, with no real place to go in mind, no time to worry about, just wandering, taking in the city and ending up where we ended up.  We found a great spot near the Puente de Isabel II bridge and watched as the colors began to spill across the sky.  It wasn't a great sunset but it was magical all the same, in a city I love, in a moment that seemed pretty much perfect.
 Don't Miss in Sevilla's Old Town:
-El Patio Bodega – some of the best tapas we had our entire trip
Traveling to Spain?
See all of my posts on the country!