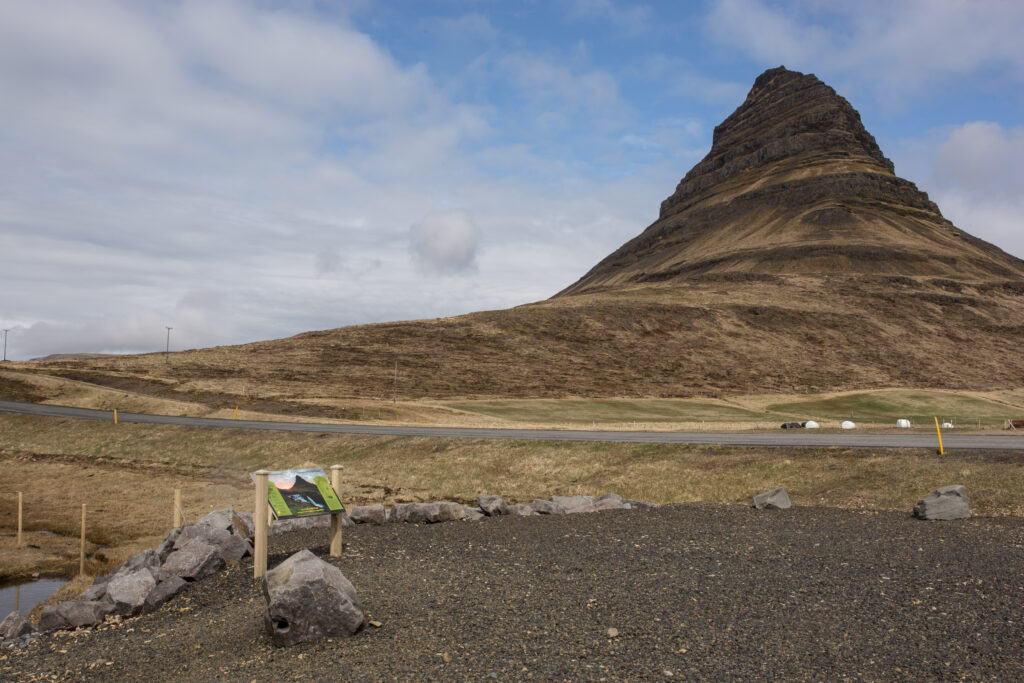 As we continued our road trip around Iceland's Snæfellsnes peninsula, another major stop we had our itinerary was Kirkufell.  This mountain is a famous spot that many people visit in this area of the island, but every photo I had seen of it showed it as a sort of rounded top mountain, a very large hill almost.  So as we drove the 45 minutes or so from the orange lighthouse at Iceland's western tip of the Snæfellsnes peninsula, we were surprised to find in essence a giant mountain.
You see, from the side (the side you arrive at from the West), the mountain is actually very long.  It's only when you arrive at the view point for this site, that you see the narrow, rounded top view.  This drive is also very scenic to get to Kirkufell and it's neighboring waterfall, Kirkjufellfoss.  The mountains were tipped with snow, but their sides were dark brown like mountains made from the darkest chocolate.  The land in front a deep olive-y green covered in rolling grasses and moss, beaches covered in black stones and water so blue it was almost blinding.
We stopped at the viewpoint for a quick stop and some photos, but I thought the view from a small pull out farther East on the 54 near the town of Grundarfjörður offered a more scenic view of the whole area, mountain and landscape all in one shot with the ocean in front.  So don't forget about other spots to see the whole mountain of Kirkjufell instead of just the one shot everyone gets!
Tips for the area around Kirkjufell:
-Everyone stops at the viewpoint and goes up towards the small waterfall (Kirkjufellfoss) to get the standard cliche image of this mountain, but the viewpoint offers great views other than just that one.
-Head into the little town just East of the mountain for more viewpoints with different perspectives of the mountain.
Headed to Iceland?