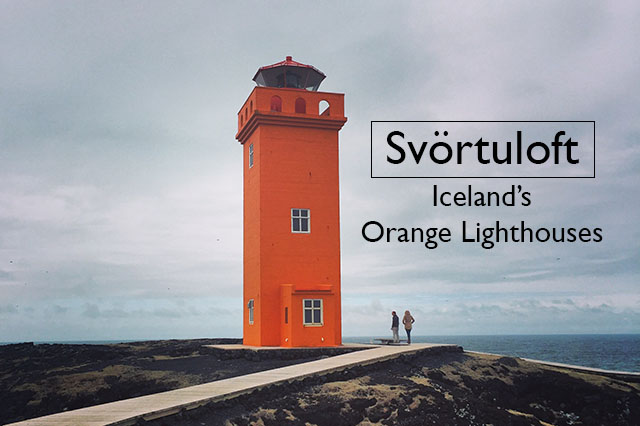 Before heading back to Iceland, I spent a few months collecting images of places I saw other people visiting to add to our list of spots to stop on our road trip.  One thing I kept seeing were orange lighthouses.  In fact, they are all over the island and every lighthouse we saw on this trip (which were a few) were a bright orange/yellow color.  I'm not sure if that's a country-wide thing, but I know that there are definitely a few that people visit all over the island in different spots.  Since we were driving the Snæfellsnes peninsula, we adding Svörtuloft to our list of stops.
At the second most Western tip of Iceland, lies Svörtuloft, a bright orange light house at the end of a very windy one lane gravel/muddy road.  About 20 minutes to a half hour drive from the tiny town of Hellissandur, you'll find this lovely little spot complete with ocean views, cliffside with intense waves crashing high against them and a lovely little lighthouse with picnic benches and spots to sit and take it all in.
The view here is pretty picturesque: mountains behind, surrounded by lava fields covered in inches of spongy olive green moss and a bright orange lighthouse against the gray sky and deep blue ocean.  Well worth the trek to get here, this Western tip of the Snæfellsnes peninsula truly brought into perspective where you are, in the incredibly beautiful and raw beauty of the country of Iceland.
Tips for Getting to Svörtuloft:
-We had a hard time finding this lighthouse without searching for it's actual name on Google Maps.  So be sure to enter the name and confirm it's on the Snæfellsnes peninsula at the very end on the map to get your directions.
-Beware that the windy one lane road to get here takes a while and in small cars, it's often hard to pull over to let another pass, so drive safely and slowly.
-Don't miss the chance to stop on the way here as it's gorgeous countryside on the way into the lighthouse.
Headed to Iceland?
Check out our Iceland Travel Guide in the Land of Marvels Shop for only $5!