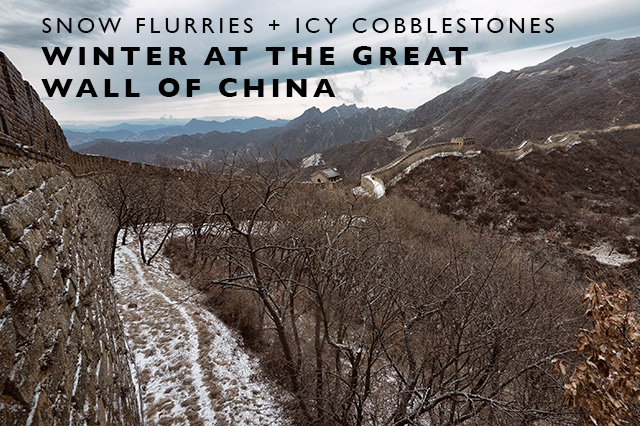 We arrived at the Great Wall of China entry facility at the Mutaniyu section of the Wall around 9am, bought our tickets and headed to the shuttle bus area.  After taking the shuttle bus as far as we could, we walked up the hill to where you catch the gondola.  Once getting off the gondola, we wandered up some stairs on the side of the hill as the snow was falling and the steps were slippery, making the short walk up a little treacherous.
As I emerged onto the top of the Great Wall from the steps, I looked up and around me and all I could muster was "wow!"  We lucked out with a snowy morning in November and for the first 15 minutes or so of our visit, we had the Great Wall almost to ourselves as the snow gently fell around us.  It was eerily quiet, covered in a blanket of white and the early morning sky was surrounding the mountains in the distance.  In all of my travels, this was one of my all time favorite spots ever.   If you're in Beijing, the Great Wall is do not miss.
I'll never forget that morning, standing atop the Great Wall of China, bundled against the cold temperatures and looking out over the mountains on this ancient wall, snow flurries falling around us, alone with this amazing monument for just long enough to embrace the history all around us.
Tips for the Great Wall:
-Hire a driver through your hotel – that way you can be on your own schedule and get to the Wall before the crowds.
-It gets really icy in the snow, so be careful!  People were sliding all around on the icy cobblestones.
-Be prepared to walk up hills – it's a trek to get up there.
Traveling to China?
See all of my posts on the country!