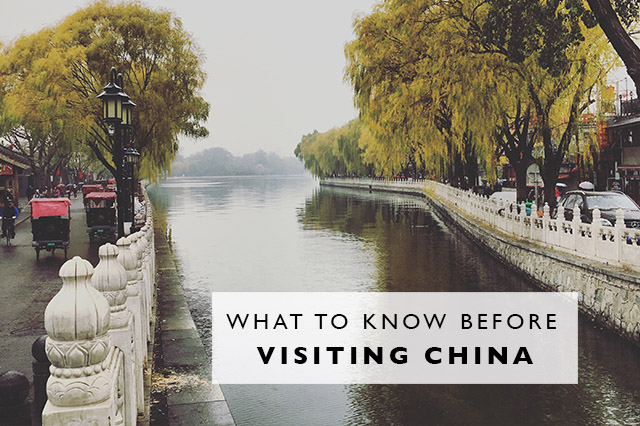 I wasn't sure what to expect from our visit to China honestly.  I've heard good and bad things from other people who have lived in or visited China, but in the end, we really did enjoy our time there and I'm sure we'll be back at some point in the future.  However, China is a country that is still sometimes hard for foreigners, so in that regard, here are my best tips for what to know before visiting China so your trip can be as great as ours was!
English is NOT widely spoken.
We found the language barrier in China way worse than in other Asian countries.  English is NOT widely spoken and actually, even in our Western Hotel it was a challenge to communicate at times.  Be sure you know that ahead of time and know how you'll deal with it.  Language apps are a great way to help with written information in other languages, but speaking, it's helpful to know at least a few words to help you communicate.
The Chinese language is spoken loudly.
After a few days in China, we remarked many times at how loud and "yell-y" the Chinese language is.  Everyone seems to be yelling at each other even in normal conversation and it really got to me as it felt like everyone was always yelling.  I hate yelling and it made me anxious, so be forewarned about this before heading to China.
Internet is a pain.
Heads up, the internet in China is not great.  For Nick and I, who rely on fast and easy internet access when we travel, we had a lot of issues upon arrival in China.  First off, major sites like Google and Instagram are blocked in China, which meant we had to figure out a way around that.  We used an Express VPN service to get around China's firewalls and paid for a one month subscription to the service.  Basically, you need to sign up for a service for a month – it was super easy to set up on our devices and we were able to connect to all the blocked sites within 5 minutes.  Though even with access, the wifi connections weren't great and we went in and out of service throughout Beijing.
*Since this post, China has significantly cracked down on using a VPN and now deems it illegal – so use at your own risk.
Use Cash.
Most places only take cash so be sure you have Chinese Yuan cash on hand.  But everything is pretty cheap, as far as Western standards, so you won't need as much as you would, for say, Europe.
Haggle.
The Chinese are expert hagglers – don't pay full price for anything in markets, etc.  You'll always want to bargain.
Book a hotel with breakfast included.
In China, and Asia in general, it's often hard to find Western breakfast food.  While in China, it's best to pick a Western hotel chain brand that will have a buffet breakfast serving all types of food.  We found there weren't a lot of breakfast places outside of hotels in Beijing, so be sure to check out if your hotel has one before booking.
Always bring toilet paper with you.
Almost all public toilets in China won't have toilet paper – so always carry a roll of your own.  I buy a travel size roll from REI before traveling to places I know I'll need it and it's easy to just slip into your purse.
Book a Western brand hotel.
In China, it's best to stay at the Western Hotel brands if you want Western comforts.  Asian hotel chains have a different set of standards, so if you want more of what we're used to in the West, it's best to stick with a brand you know.  We chose the JW Marriott brand and loved it in Beijing.
Beijing's Traffic.
The traffic in Beijing is no joke.  Especially during rush hour, the city comes to a halt in traffic so be aware and update your timeframe accordingly.
The pollution is real.
Even though the few days we were in Beijing we got really lucky with no pollution, the day we arrived it was a thick smog over the city.  My eyes burned and everything had a musty smell – hence why most people wear masks.  The pollution in China is no joke – so keep an eye on the pollution levels (Apple's weather app tracks it nicely) and plan accordingly.
Traveling to China?
See all of my posts on the country!