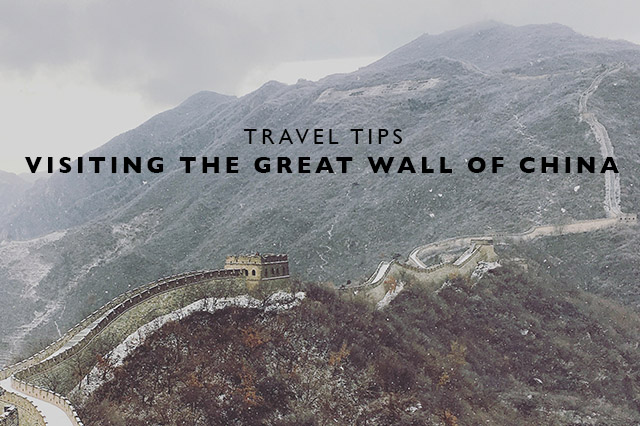 Our visit to the Great Wall of China was undoubtedly one of the most amazing travel experiences I've ever had and I'll never forget it, though there are some important items to note when planning your visit there.  To make it as easy as possible, here are my best tips for visiting the Great Wall of China out of Beijing and how to see this amazing landmark yourself!
Pick which section of the wall you want to visit.
I wanted a section of the wall that wasn't crazy busy but also close to Beijing and easy to access.  There are lots of different sections of the wall you can visit outside Beijing – we chose the Mutaniyu section which from my research looked like the best option for us.  Choose which section you want to see and go from there.
Go first thing in the morning.
The Great Wall is a huge attraction for lots of people, so if you want to experience it without massive crowds go first thing in the morning.  We left our hotel in Beijing at 7am and arrived about 9am, though it was snowing that day so traffic was a little slower but keep in mind Beijing's rush hour so give yourself plenty of time.
Be prepared to walk.
Even though you'll arrive, take a shuttle bus, then a gondola up to the Wall itself, there is still quite a bit of walking uphill involved.
Dress for the weather.
Whatever season you go, be sure to dress appropriately for the weather.  In Winter, when we were there in the snow, good rubber soled shoes are a must as the Wall was really slippery.  Also dress warm, the wind is cold way up there in the mountains.  For me, that meant a heavy coat with a hood, ear muffs and a huge scarf and gloves.
Take traffic into account for access.
As I mentioned above, it took us about 2 hours straight from our hotel in Beijing Central to the Great Wall at Mutaniyu at 7 in the morning, but on the way back it only took less than an hour due to less traffic.  Keep in mind that Beijing has horrendous rush hour traffic and take that in to account for your trip to the Great Wall in and out of the city.
Hire a Driver through your Hotel.
If you don't want to deal with a tour group (we're not tour people), the best way to get to the Great Wall is to hire a driver to take you through your hotel.  I booked ours in advance through the concierge of the hotel we stayed at and let them know what time we wanted to leave.  The driver will stay with the car while you explore the Great Wall and then take you back to the hotel.  This is a great way to do it if, like us, you don't want to deal with a tour group or a tour guide and just want to explore on your own.
Traveling to China?
See all of my posts on the country!