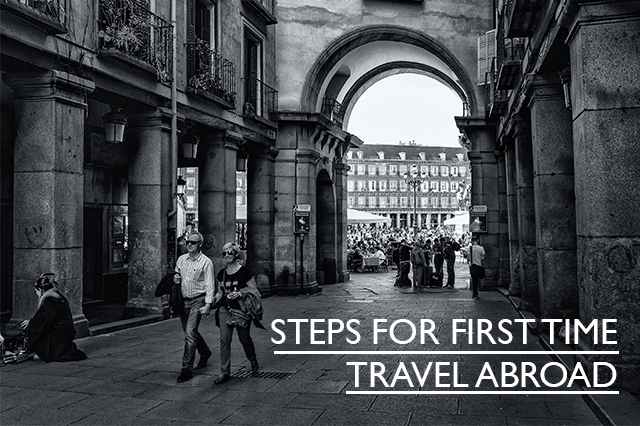 We're getting all ready to head to Iceland tomorrow and as I was preparing everything for our trip, I got to thinking about everything that is involved in the lead up to traveling abroad.  It can often seem a daunting adventure, but for anyone thinking of heading abroad for the first time, it's also an incredible experience worth having.
Traveling abroad is wonderful.  It's a unique experience that teaches us so much about ourselves and the world around us, but since I travel out of the country a lot, I often forget that a lot of people splurging on that plane ticket might be headed out of the country for the first time.  So for those of you who may be planning trips to head overseas for the first time, first of all, well done!  You won't regret it!  And second of all, here's some steps to help you make the most of your trip and your time overseas.
Do your Research.
It's really important to do your research before traveling.  Know a little bit of the language, be familiar with local customs/traditions, familiarize yourself with a map of cities you'll be visiting and what local foods might be.  The more you know before you go, the easier your trip will be.  If you leave knowing nothing, you'll spend so much of your trip trying to take everything in, if you know a little, you'll have more time and freedom to just enjoy the place.
Keep an Open Mind.
One of the things that travel teaches us, is to open our minds to things that are different than we might know.  If you're traveling abroad for the first time, keep an open mind to everything.  Let yourself be immersed and you'll be so glad you did.  If you let yourself truly experience a place with an open mind, it will be much more of a life changing experience.
Leave time to Wander/Don't overbook your trip.
A lot of first time travelers overbook themselves.  Know ahead of time you might not see everything, but on that same note, you'll end up seeing more if you leave time to wander and take in a place.  Seeing more than just the tourist spots is what makes you a true traveler, so leave your itinerary open enough where you have time to really just "see" the place.
Embrace the differences.
One of things I hear a lot while traveling is people complaining about all the differences to their home country.  On the same note as having an open mind, it's important to let go and embrace what's different.  After all, what would be the point in traveling abroad if it were exactly the same as at home?
 Document your experience.
Whether you achieve this by taking photos, writing in journals or blogging, make sure to document your experience.  I go back and take a look at past trips of mine all the time to jog my memory or to relive a wonderful moment.  It's a big step taking your first trip abroad so make sure to document it!