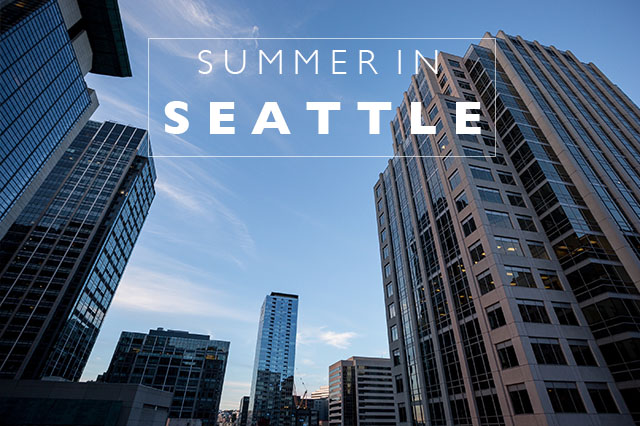 Last weekend some friends of ours who live about an hour North of Seattle invited us to a housewarming at their new house.  So last minute, we decided to make a weekend of it in our neighbor city up North.  We have been to Seattle countless times since it's such a quick trip up from Portland but I always enjoy seeing more of the city and finding new spots that we like.
We didn't spend very much time in the city itself, really just mornings and evenings since we drove over to Whidbey Island for our only real day up there, but we still managed to enjoy some Summer in Seattle.  The weather while we were there was really hot (abnormally hot for the Pacific NW) so we spent our time finding new restaurants and wandering in the covered Pike's Place Market to escape the heat.  We did manage to find some new (to us) spots though and some great restaurants and Summer is such a great time to explore the lovely city of Seattle!
Seattle Tips:
-Eat at Lola for breakfast and order their house-made donuts.  Enough said.
-Don't miss a trip to Pike's Place Market.  I particularly like to pick up fresh berries and flowers as you meander through the stalls.
-Grab an authentic Belgian waffle at Sweet Iron Waffles.
-Don't miss wandering the downtown area and keep some time for shopping.