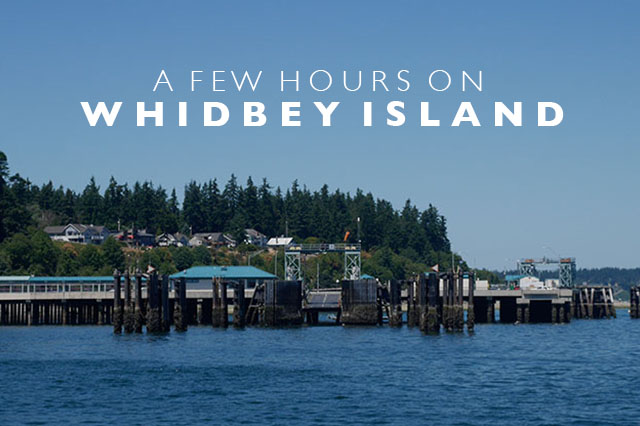 As I mentioned the other day, the reason we headed up to Seattle last weekend (other than to try and escape the heat in Portland) was to visit some friends of ours that were having a housewarming party at the North end of Whidbey Island.  Last year when we went to the San Juans, we really wanted to head South back home through Whidbey Island, but I got really sick and we had to cancel that part of the trip.  So when the chance came up this year, we jumped at the chance to sea some coastal views and small island towns, as well as a ferry ride over from the mainland.
We took the quick ferry from Mukilteo (see tips below on this) and then started in Langley and drove North throughout the day, spending a few hours on Whidbey Island.  There were definitely cool things about the island, but to be honest, we were pretty disappointed compared to the scenery we had experienced in the San Juans and were comparing it to that.  All in all, I'm glad we did the drive and got to see the area, but it's not a place I'd head back to anytime soon.  The lack of true coastal views, really run down little towns and houses and overall just not a great feeling, we mentioned multiple times that if you're looking for an escape out of the Seattle areas, we'd much prefer the San Juans.
As we drove North, we found the most beautiful part of the island was around Deception Point: a huge bridge crossing between islands.  It was instantly greener, better coastal views and gorgeous blue ocean.  If we went again, I would head directly North on the island and closer to Anacortes, but all in all, we were glad we got to experience Whidbey Island even though it wasn't our favorite.
Tips for Whidbey Island:
-If you're taking the ferry from Mukilteo, the actual ferry ride is really short, around 20 minutes.  But the line can pile up for miles and you can sit for hours waiting to get on the ferry boat.  I would suggest either going really early before the line gets long or going on an off weekend.  Avoid holiday weekends if you can.
-Whidbey Island gets really full on holiday weekends which was when we were there and it got a little claustrophobic in the small towns.  I would highly suggest visiting when there isn't a holiday weekend or special events going on.