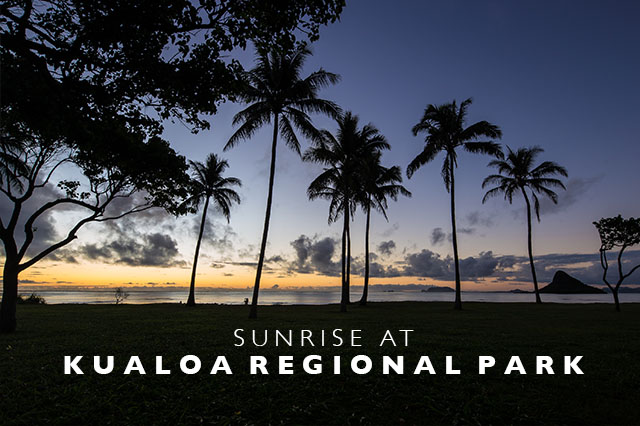 With back to back trips to Hawaii these last couple weeks for work (and a little exploring), I thought we'd do a couple consolidated Hawaii weeks on Land of Marvels!  So look forward to finding out all the inside tips you need to know before a trip to the Islands all this week and next!
Our trip last weekend to Hawaii was a super quick one (as the one coming up this weekend will be as well), flying over Friday night and leaving Sunday mid-day.   Saturday we were working all day, taking photo after photo of my design projects which are finishing up construction, but Sunday morning we woke up early still on Oregon time and drove to the Windward side of Oahu for the sunrise.  Even when we're in Hawaii for a short time working, we always try to see at least one sunrise at a new point around the island.
I had seen a photo taken from the Kualoa Regional Park a while back on Instagram and loved the view of Chinaman's Hat (the rock formation in the ocean) and the tall palm trees along the water's edge.  So about 5am we headed out of Honolulu, drove over the Like Like highway to Kaneohe on the Windward side of the island.  Arriving just as the colors were popping in the early morning sky, we set ourselves up on the beach and watched as the sun rose and illuminated the world.
The sunrise at Kualoa Regional Park was so beautiful and I'd highly recommend this spot!  It was so scenic, with the giant mountains behind and the ocean in front.  So next time you're on Oahu, hop in the car and head to this spot at sunrise (or anytime of the day)… you won't regret it!
Headed to Hawaii?
Check out our Oahu Travel Guide in the Land of Marvels Shop for only $5!