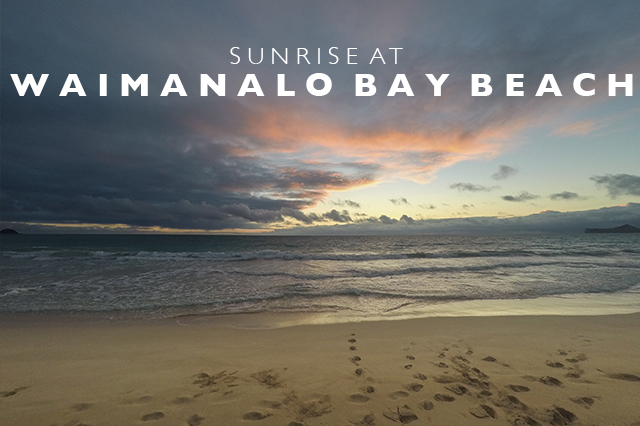 With back to back trips to Hawaii these last couple weeks for work (and a little exploring), I thought we'd do a couple consolidated Hawaii weeks on Land of Marvels!  So look forward to finding out all the inside tips you need to know before a trip to the Islands all this week!
During the Summer when Nick and I take a few quick trips over to Hawaii for work, it's usually on weekends to photograph my design projects when no one is around and they are usually pretty quick, over Friday night and home Sunday.  One thing though as I've mentioned before is that we try to make the most of our time in the Islands.  Sunday morning we try to get up early and watch the sunrise somewhere new on Oahu.
For this most recent trip, I had saved a photo from a travel blogger I follow a few months ago of Waimanalo Bay Beach on Instagram in hopes of making it there this time around.  So Sunday morning we got up in the dark and headed over the Pali highway from Honolulu to Waimanalo to watch the dawn light paint the sky.
We arrived right around 6am as the first colors were appearing and immediately it was pretty obvious that this might turn into a favorite beach on the island.  Sunrise at Waimanalo Bay included gorgeous crystal clear turquoise water, golden soft sand beach and surrounded by trees and inlets; this beach is the true Hawaiian beach.  With no one around we spent an hour watching the sun rise and then watching as the storm clouds rolled in over the island (there was a hurricane not far off in the Pacific).
While this area is a little more local than some of the other spots we've visited and it's the least pulled together parking area I've seen for a beach park of this size, the beach was worth it.  Do keep in mind this is a very local area and there is also quite a large homeless population in the area, so be safe and have common sense.  But if you're looking for a spot where not many other people will be and particularly to watch the sunrise, this is a fantastic spot to visit!
Headed to Hawaii?
Check out our Oahu Travel Guide in the Land of Marvels Shop for only $5!