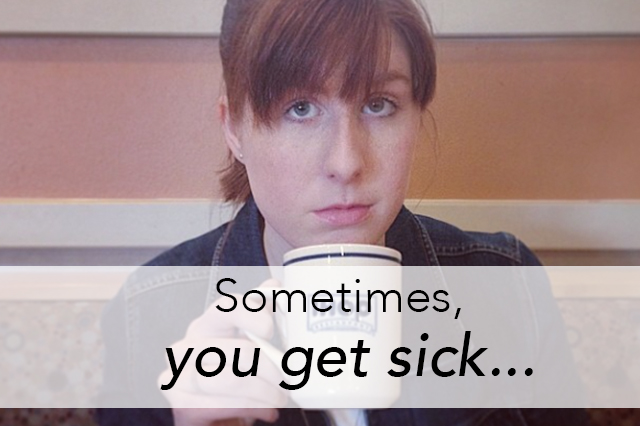 We had an amazing weekend in the San Juan's of Washington State and I'll be posting all about our time there in the days to come, but one thing that sort of put a damper on our weekend was me getting sick. I started not feeling great on Thursday of last week, but I hoped that with lots of Airborne and tea I'd be fine for the weekend. Unfortunately I didn't feel great Friday or Saturday, but it really hit me Sunday and we had to alter our plans for our drive home due to me just feeling lousy, (as witnessed in the above photo Nick took on Sunday morning before we headed home). Turns out as I found on out on Monday, I actually have strep throat, so I'm still in fact not feeling great.
But that's the thing with traveling, with seeing amazing places around the world, we're all just human and sometimes we get sick. It's how you deal with that, how you take all the things that go against you in stride that can make or break a trip. There are always going to be things that come up, there are always going to be obstacles while you travel, there are always going to be hardships you encounter and I've had all of them happen to me, but perhaps being sick is the most annoying.
I've been sick for a few of our trips in the past few years and I'll be the first to tell you that it's not only really inconvenient, it can be downright uncomfortable. You're not in your own bed, you're having to carry luggage around, sit on planes for hours feeling horrible, and find medicine or liquids while on the go. But at the end of the day, often times those trips when you're sick, it really shows you how far you can go, how strong you really are and how to make the best of bad situation.
There are also moments when traveling that even when you don't feel good, your spirit is lifted by what you see and what you do. There are moments in the midst of feeing lousy that you look around and still are thankful for such a beautiful world and the experiences that go with it. I've had moments all over the world feeling horrible, but even through the haze of being sick, you look around and wonder how lucky you are to be where you are at that moment, sick or not. I've stood in the middle of the icy wilderness of Iceland with my eyes watering non stop from a cold, wandering around the City Palace in Udaipur with a hoarse voice, and watching orcas play in the wild in the San Juan's, and each time I come home with a new memory, one that means even more because no matter our state as humans, we are so lucky to be here, so lucky to experience all of this.
Sometimes things happen, we might not get to see everything we wanted, we might have to cut some things short, we might have to abandon certain plans, but at the end of the day, traveling is what we make it. It's about the moments we do experience, not the ones we don't. Traveling is about the good and the bad, and when the bad appears, it's about making the most of it regardless of the circumstances.