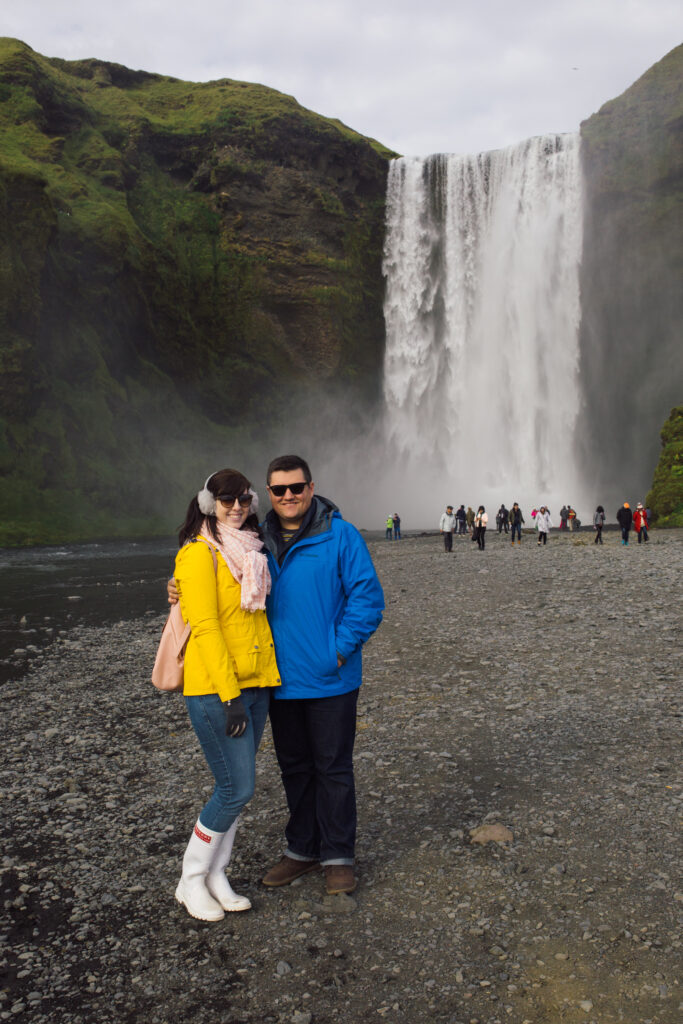 Having visited the amazing country of Iceland three times now, all in very different times of the year, I've realized that no matter when you go to Iceland, there are 5 things that you really shouldn't go without while there.  Whether it's September or November or May, Iceland has crazy weather and you never know what you might encounter, like the huge snow blizzard that came out of nowhere when we were driving through Iceland's North last year or the crazy wind on Vik's beaches that almost blows you over.  No matter when you're headed to this magical country, and you totally should, here are the top 5 essential items to take to Iceland.
A really good waterproof jacket.
The top thing you have to have before a visit to Iceland, no matter the time of year, is a really good waterproof jacket.  It rains often in Iceland and yet even when it's not raining, you'll probably be exploring waterfalls of all shapes and sizes where the water sprays long distances – so bring a really good waterproof jacket to protect you from it all.  It's terrible already being cold, but cold and wet – that's the worst!  I love my Barbour jacket for trips like Iceland because it truly doesn't let any moisture through.
A camera to capture everything you see.
Iceland is truly one of the most remarkable and surreal places you'll ever see in your life.  So don't forget a camera to capture it all.  Whether that's just your iPhone camera or a DSLR, make sure you capture it to remember exactly how magical it really is!
Rubber boots with rubber soles.
One thing I take on every trip to Iceland – rubber boots!  Or as the Brits call them – wellies.  Whether you're climbing up and down waterfalls or exploring the countryside, my rubber boots have saved me from a ton of slippery situations as well as keep your pants clean.
Warm weather essentials : hat, gloves and ear muffs.
No matter the time of year, Iceland can be cold.  Especially on the coasts when the wind if howling, it's important to stay warm.  I always bring a hat, gloves and ear muffs that I keep with me at all times.  You might not need them the whole time, but you probably will at some point!
Leggings for dual purposes.
I love having a good pair of leggings with me on trips to Iceland, first and foremost, it's nice to have something casual to throw on with a sweater when around the hotel or when you're driving around the island.  But they also serve a great dual purpose to wear under jeans when out and about exploring if you get cold.  I do this in really cold locations to have an extra layer to keep warm and I'm always so thankful for it!
Headed to Iceland?