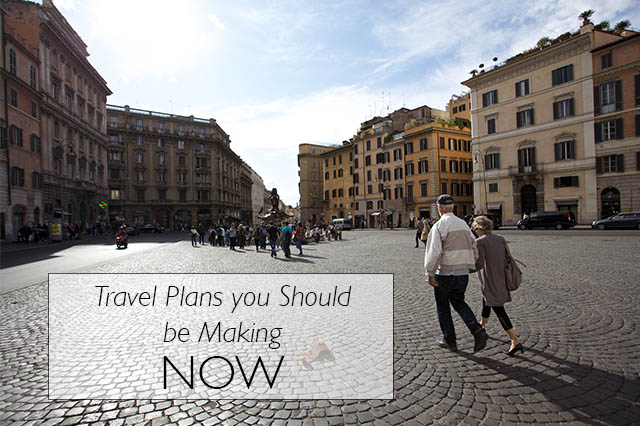 The year is slipping by us and we're already in March!  It's semi-crazy to me how fast the time is already going in 2015 but that makes it all the more important to cement your 2015 travel plans in the coming months.  Once the time starts going, it's often hard to really make plans, as life gets crazy and busy, we tend to push things aside.  So now is the perfect time to take a weekend and sit down and plan out your travels for the rest of the year!  Here's the travel plans you should be making now…
Book Your Summer Escape
Now is the time to cement those Summer travel plans.  With schools out and so many people opting to travel during the Summer, you should be booking your hotels and flights now to get better deals and to make sure you get the selection you want.  The longer your wait, the more expensive it will be.
Sign Up for Global Entry
If you haven't heard of Global Entry, I did a post on it a while ago and you can read it here.  In short, this is a government program in the US that basically pre-screens your for security and immigration, so when you go through security, it's the quick line without having to take off shoes and coats and such.  It also allows you to go to a Kiosk at Immigration when returning to the US from overseas, which saves a tremendous amount of time and you never have to wait in the long Immigration lines.  It's saved us so much time over the years, I love this program and more and more airports are becoming part of it, so now is the time to do it!
Plan a Fall Getaway 
If you're looking at a Fall getaway later this year, start figuring out where you want to go and researching flights.  We're looking at a New York escape for our 10 year anniversary in October and I'm beginning to do all the research so I know how much flights are looking like.  Now is the time to start planning any getaway you want to make later this year.
Start Looking at Holiday Plans
I know this seems super early, but in all honesty, if you're going to be traveling over Thanksgiving and Christmas, now would be a great time to figure out where you think you'll be headed and start looking at prices.  If you can get a good baseline of flight costs for a few months now, you'll know later what you should be paying.  Also, if you're traveling and will need a hotel over Christmas, start planning that now.  Hotels book up fast around Christmas time, especially in popular spots, so start looking!
Start Thinking About Spring 2016
It's never too early to start thinking about next years' destinations as well… so start brainstorming and making mental lists of destinations you might want to consider for Spring 2016!  Let the inspiration flow…