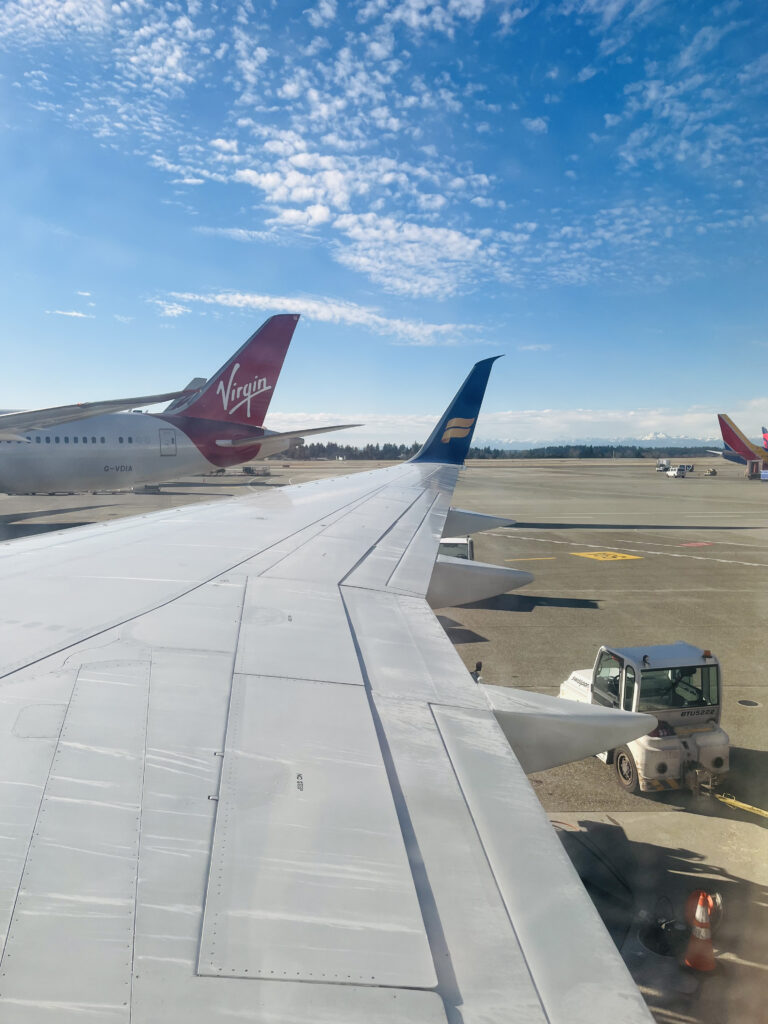 A month or so ago, I woke up one morning to an email from Norwegian Airlines, telling me my flight schedule had been changed.  The fight in question – a direct flight from London to Seattle in late November after our trip through Scotland and London.  When this particular route started I was really excited to have a budget airline flight from the Pacific North West to London as that could be a really valuable way for us to get across the pond.  And yet, as I began to look into what "change" the airline had made to my itinerary, I realized that they had changed my entire destination and were going to be sending me from London to LAX instead of Seattle entirely.
Now let me preface this by saying, I have in the past generally been a fan of Norwegian (cheap flights and not a lot of issue in my experience), however I have started noticing more and more issues both with my flights with them and with other people, so going forward, if you notice a super cheap fare with them, just beware.
Ok so back to my "schedule change…."  Most of the time when airlines change your itinerary, it's for shifts in time, maybe the flight will leave 15 minutes later than previously scheduled, etc.  But this change by Norwegian was sending me to a completely different airport than my destination, like literally from the top of the West Coast to the bottom of it and that didn't work for me.  So, when airlines change your flight and it long longer works for you and your schedule, you have options and rights and here's what to do!
You can always cancel and get refunded!!!!
First things first, if an airline changes your itinerary so that it no longer works for you, you can always cancel without a fee.  I'm pretty sure every airline in the world does this free of charge.  It might be a headache and you might be on the phone with them for an hour, but you can cancel and get refunded for your entire ticket amount.  This is what I ended up doing with Norwegian as they canceled my entire flight and were rerouting me through LAX which I didn't want.  I did spend an hour on the phone with them and it was a hassle, but I got my money back so don't forget about this option.
If you can still make the flight work but are going to need to move things around, ask for a partial refund or a credit.
Sometimes, a small change in the flight can still be workable but you might have to move some stuff around in your itinerary.  If this is a case and you want to keep the changed flight, tell the airline that you have to move stuff around and ask for a credit or an upgrade or a partial refund to make up the difference.  I have found in my experience, most of the time they'll do it instead of losing money if you cancel completely.
Look into backup or replacement flights before you call to cancel your original flight.
When I got that email from Norwegian, I immediately started looking for other flight options before I even called to cancel.  I wanted to see what the price difference would be on another airline if I rebooked.  I ended up booking Iceland Air flights through my Alaska miles (and ended up saving money on the flight) before I called Norwegian to cancel.  That way I had a solid backup plan in place before I canceled my original flight.  Make sure you know there are other options before you cancel entirely.
Watch and make sure your refund comes through as promised.
After you cancel your flight or get any sort of refund, be sure to keep checking your credit card to confirm that it actually comes through as promised.  Sometimes refunds like this can take a while, so keep checking back and make sure you get what you should.