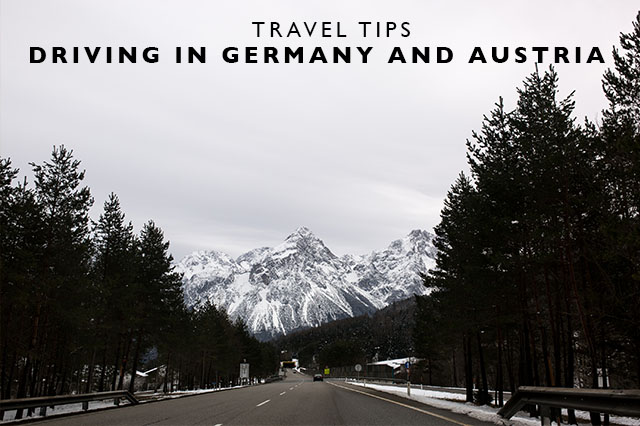 For part of our trip through Germany and Austria, we rented a car in Munich and drove down into Austria including stops in Innsbruck, Hallstatt and Salzburg.  Driving on the Autobahn in Germany and roads in Austria can be daunting, so here's my best travel tips for driving in Germany and Austria if you find yourself headed that way.  The route we took was a gorgeous drive and the roads were fantastic so if you're worried, don't be!
100-120 speed average
Most of the highway areas of the Autobahn average between 100-120 kilometers per hour.  Though as soon as you see the round circle sign with a line through it, that means there is no speed limit (see below). While some of the areas through cities will slow down a bit, most areas we drove through stayed pretty consistent in the 100-120 kilometers per hour range.
Stay right, out of fast lane, except to pass.
One thing that's really different driving all over Europe as opposed to the US is that people do not stay in the fast lane.  The left/fast lane is there only to pass, so stay right unless you're passing and then get back over immediately.
No speed limit in some places.
As mentioned above, there are parts of the Autobahn freeway system in Germany where there is no speed limit and it's drive at your own speed at your own risk.  When you see the round speed sign with a line through it, that means you're free to go as fast as you like.  I ended up going around 150 kilometers in those areas and stuck right around there, but people were flying past me in some areas, so just go at a speed you're comfortable at.  One thing to note is that Germany's roads are in really great condition and everyone has pretty good quality cars so it's safer than it sounds!
Buy an Austria sticker before crossing border.
If you plan on driving from Germany into Austria, be sure to buy a sticker for your car before crossing the border.  You can buy them at any gas station in Southern Germany and they are super easy to get and use, but if you don't have one I heard stories of huge fines, so just be sure to get it before crossing into Austria.
Traveling to Austria?
See all of my posts on the country!