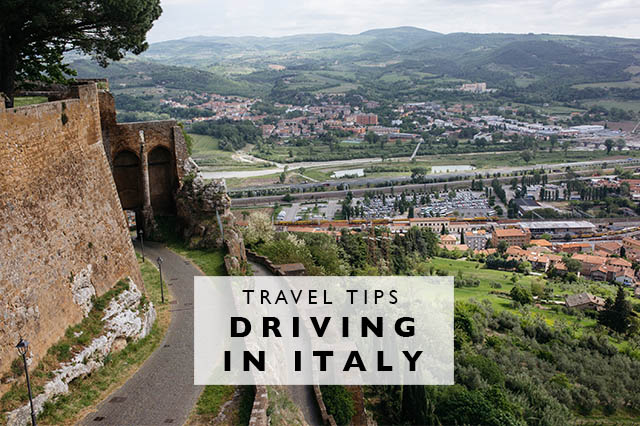 One of our favorite parts of our trip to Italy this time was our drive from Rome up through Umbria and Tuscany.  The Italian countryside truly is beyond stunning and I'm so glad that we got to experience more than just the cities during this trip.  But if you're going to rent a car and drive in Italy, here are my tips and tricks for driving in Italy.
Get a small car.
The first rule of driving in Italy, don't rent a big car.  If you have lots of people and luggage, it might be better to get a driver or take a tour bus because frankly, these towns are tiny, the roads are really narrow and parking areas barely have room for tiny European cars.  So whatever company you go through, make sure it's a small car.
Follow the signage – Italy has great signs on the roadways.
We found the signage in Italy to be excellent.  Everywhere we went, signs were laid out orderly and easy to read.  We had GPS on our phones and a paper map but there were many times we just followed the signs and it was really easy.
Be aware of Toll roads … Go through "tickets" line.
Many of the highways through Umbria and Tuscany are toll roads, so just follow the signs and you'll be fine.  Be sure though to go through the line that says "tickets" in Italian (billeteries), grab a ticket and then when you exit the highway, again go to the sign that looks like money (white) and pay the toll.  Many lines take both cash and credit cards.
In all small to large towns, there are parking areas outside the city that you can park at and pay, then walk in. Don't try to park in the cities.
In almost all the small towns we went through (and I know Florence does this too) you aren't allowed to drive into the city as a tourist.  Instead, you must park your car in the car parks outside the city and then walk in.  Be sure to pay for your parking (and put the receipt in your car) before heading into town.
Be aware of road speed cameras – there are lots.
In the Umbria/Tuscany section of the highway we drove, there were tons of speed cameras.  As long as you stay around the 110 km/hour speed you should be fine.  People were speeding past us as well so I'm sure the limit for the cameras is higher than that, but that's a good speed limit to stick with if in doubt.
Most highways are 110 km/hour speed and in towns, most are 50-60 km/hour.  There aren't many speed signs so just go with the flow of traffic.
While we found there aren't very many speed signs throughout Italy, we just went with the flow of traffic and eventually saw signs.  Most of the highways we were on were 110 km/hour speed and in most towns it was around 60 km/hour.  Stick to those and you should be fine.
The roads move fluidly … Do as the Italians do.
When in Italy, do as the Italians do, right?  So same goes for on the highways as the traffic moves much more fluidly than it does in the States or even in the UK.  Lanes merge together quickly and no one uses blinkers on the highway.  So just go with it and move with the traffic and you'll be fine!
Traveling to Italy?
Check out my archives for more posts on Italy here!