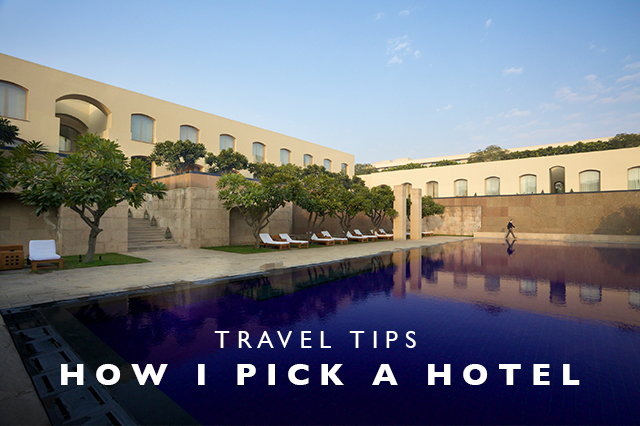 With any trip, hotels or accommodation are a huge part of wherever you are headed.  For me, choosing hotels is one of my favorite parts of planning a trip.  Being a designer, I love unique hotels and finding those places that really make a trip.  I'm not one of the people that don't spend any time in their hotel while traveling.  I actually love coming back mid-afternoon for a nap or to take a break or spending a day exploring the grounds of a great hotel.  For me, hotels are a big part of my travels and so when I come to choosing where we stay, a lot of research and effort goes into picking a place to rest our heads.  So today (from a reader request for this post), here are my secrets for how I pick a hotel when traveling and what I look for.
I start my research in my own archives.
I keep a constant file on my computer of saved hotels that I've come across on Pinterest, Instagram or blogs I follow.  When I see a cool spot, I save an image of it so when I start researching for where to stay, I go here first. If you don't already, I'd recommend starting your own file for places you see online that you think are interesting and then keep an on-going collection.
Then I think about what I want in a hotel.
First, I like good design so great photos are important online.  If a hotel doesn't have good photos or a decent website, I move on immediately.  I also like to look for things in photographs (after living with a photographer, I can spot things now in a photo that turn me off a hotel), like if they've specifically shot a photo from a direction that makes a tiny room look bigger or if they've photoshopped things in that are obvious.  I also look to see what types of rooms they have, so that when we check in I know immediately if we're being downgraded to a smaller room or if we're getting what we paid for.  I also prefer modern decor, so I tend to skip over more traditional design and free wifi is another big thing I look for before booking.  Location is also really important, so take a look at a map and read the TripAdvisor reviews.  As soon as I see multiple review posts that say "great location" I take that as a good sign!
Next, I head to Tablet Hotels and Splendia.
If I don't find anything in my own archives, next I head to Tablet Hotels and Splendia online.  Both websites only list boutique hotels, which I tend to lean towards, narrowing your search without all the chains and lower end spots.  Most of the hotels on both sites are smaller properties and really well designed, which is what I like.  So I do a lot of my research on both sites but….
I book on Hotels.com.
I've been a loyal fan of hotels.com for years and I keep coming back because of their free cancelation on most hotels you book (which is super easy to do online) and their loyalty program (where you get 1 night free after 10 nights stayed).  I've had really good luck with them over the years and consistently use them to book so I'm booking all in one place.
And if you're a blogger, reach out.
Even if I'm paying for a hotel (instead of working with them through Land of Marvels) I always reach out through email before my stay and let them know I'm a travel blogger and I'll be reviewing the hotel on my site.  9 times out of 10 they'll make your stay extra pleasant because they want the good press, so it's always worth your time to send a quick email!