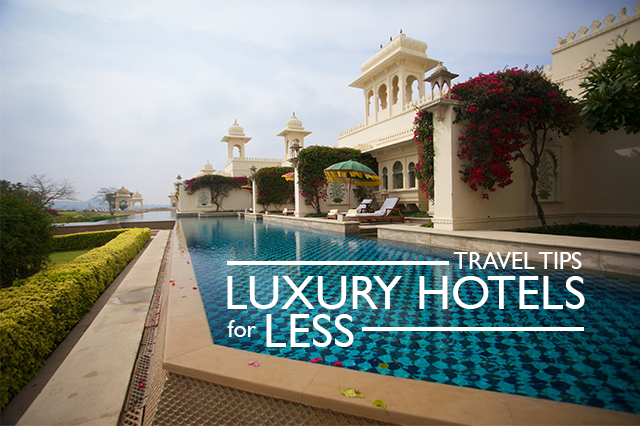 I've mentioned it numerous times on the blog before, but I really like a nice hotel when traveling.  That's not to say I like the price tags for luxury hotels or that I stay in them for every trip, and generally I prefer small boutique hotels, but sometimes a night or two in a 5-star hotel can be a fun travel experience.  Sometimes it's an escape for a night, a splurge for a great memory and sometimes the luxury hotels just have the best views or locations and you'll feel it's worth the splurge…well there are a lot of ways to get a night or two at a luxury hotel for a lot less and here's how!
Loyalty Programs
It's really incredible what loyalty programs can do to help cut cost on luxury hotels.  Websites like hotels.com that offer a free night after 10 nights with their program can go a long way if you're cutting $200-300 off a luxury hotels's prices.  Say a $500/night room at a 5-star property, that would bring it down to half or less with loyalty program rewards, which can be a great perk.  Also, a lot of big chains have credit cards and loyalty programs that offer free nights and you can really maximize that to your advantage.
Stay in Cheaper Destinations
Another way to cut cost but not extravagance is to stay at luxury properties in cheaper destinations.  Certain places around the world will be cheaper since the cost of living is cheaper or the dollar to the local currency is at a good exchange rate.  For example, we're going to be staying at the Four Seasons in Sydney in November for one night, with a room with views of the Sydney Opera house for only $350/night.  And while that's more than we usually like to spend on hotels per night, we thought the splurge worth it, considering a room with a view of say Central Park in New York City could easily go for $600/night or more.  Take a look at spots around the world where the exchange rate is good or spots where the cost of living might not be as high and splurge on luxury hotels there.
Media Stays
This one is primarily for bloggers, but one thing I've been tapping into a lot for our travels is asking hotels about media rates.  A lot of times, in exchange for a review or social media exposure (be sure to outline what you'll do clearly, which I talked about here) they'll offer a discounted rate.  Often it can be as much as half off or sometimes, or for no charge at all, so it's well worth sending the hotel of your choice an email well before your trip and asking about a partnership.