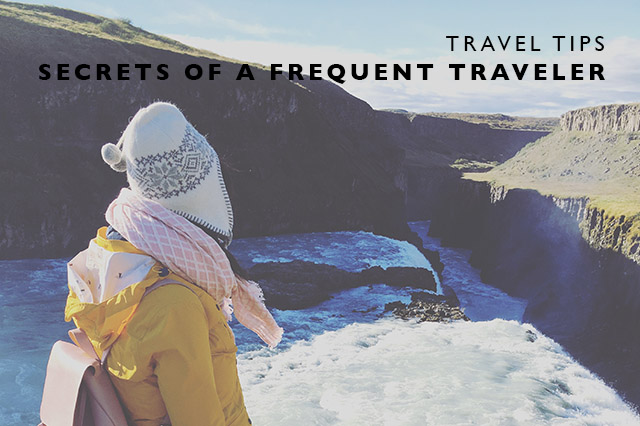 I hear a lot from people, "I don't know how you travel so often!"  Most of the time people are referring to the actual act of travel, airports, long haul flights, the exhaustion, the time it takes, etc.  For some reason (well actually, we know the reasons) people hate the actual act of travel.  And I get it, airports are annoying and time consuming, flights can be long and space limited, the food is bad and expensive and if it weren't for the thrill of arriving at your destination, it can often seem like travel is just a horrible waste of time, money and energy.  But here's a secret, it doesn't have to be.
If you don't travel often, you might not know the tips and tricks of how to bypass a lot of the "headache" of travel.  So today, I'm sharing with you the secrets of a frequent traveler, how I get through the travel process (usually) fairly easily and without a ton of headache.  And while there are still the occasional issues (hello leaving Iceland!), most of the time travel is pretty effortless for Nick and I as we've learned how to bypass all the inconvenience of the actual act of travel and now you can too!
Learn to enjoy the journey.
I spend a lot of time in airports and on airplanes and I will tell you, the first secret is to figure out how to enjoy the journey of traveling somewhere.  I love flying for a number of reasons.  For one, I love the idea of traveling somewhere.  That feeling gets me through the tough parts of travel, that idea that I'm headed somewhere new or somewhere different.  Secondly, I love the idea that for however many hours I don't have to answer emails or phone calls, that I'm essentially "unreachable."  I don't often get the chance in my daily life to watch movies and TV shows for hours on end or to just sit and write without any distractions.  Learn to enjoy the long flights or time spent in airports to do the things that you don't get to do normally.
Use the perks of frequent travel.
One thing that frequent travelers will always tell you – use the perks of that frequent travel.  And even if you aren't a frequent traveler, you can use a lot of these as well!
The first – Elite Status.  Let me know just tell you, my life changed when I made Alaska MVP Gold elite status a couple years ago.  If you travel, even every once in a while, pick a loyalty program through the airline you use most often and work up to their elite levels.  From early boarding to free treats onboard, being elite with an airline is a huge perk to making travel more enjoyable.  Every time I get handed a free chocolate onboard Alaska flights and am thanked for being a valuable Alaska Air customer, it just makes me feel even better about travel.
The second – TSA PreCheck + Global Entry.  When this first came out about 4 years ago, we jumped at it and signed up immediately.  We got Gobal Entry which also includes TSA PreCheck, but if you only travel within the US, you can also just apply for PreCheck on its own.  Basically, TSA interviews you and then decides if you are able to be prescreened for security and border control.  With TSA PreCheck you get to go through a dedicated security line, you don't have to take out liquids or electronics, don't have to take your shoes, coat or scarf off and you literally just put your bags through and then walk through a metal detector and you're on your way.  PreCheck has saved us so much time at airports over the years that we smile every time we go through – it's SO easy!  We only show up about an hour before our flights any more as we know we'll just speed through security.
Now Global Entry is equally amazing and has probably shaved hours off our time coming into the US.  With Global Entry, when you enter the US from abroad, you don't have to wait in the long immigration lines.  You head directly to kiosks where you scan your passport and finger prints, it prints you a receipt which you give to the agent and then off you go.  No waiting AT ALL!  We are able to have shorter connections when coming into the US because Global Entry saves us so much time.  Especially at larger airports like LAX, we walk up to these huge long lines and bypass them entirely.  It's only $100 for 5 years – and believe me, it's well worth it and beyond!
Carry-On Only
Another secret of frequent travelers – don't check luggage.  Not only do you have to get to the airport way early to check bags, it also costs money these days.  And on top of that, it's super annoying and a huge hassle if the airline loses your bag en route.  I started doing Carry-On only years ago and very few trips do we check luggage.  We have found that really for up to 10 days, it's fairly easy to pack in carry-on bags only – especially when you have great luggage like our Tumi hard sides.  In short, this will save you a ton of time and money, plus the peace of mind for always having all your luggage with you at all times when traveling.
Don't try to see everything.
One mistake that a lot of travelers make – trying to do everything in a place.  A secret of frequent travelers – don't try to see everything.  Pick and choose specific things that you really want to do and see, that way you won't stress yourself out and you'll really enjoy your destination.  Also know you can go back and see more, but you'll enjoy your trip more and be less stressed at the end by pacing yourself and knowing that seeing a portion of the things on your list is more worthwhile to really see them, not just fly by in an effort to see everything all at once.