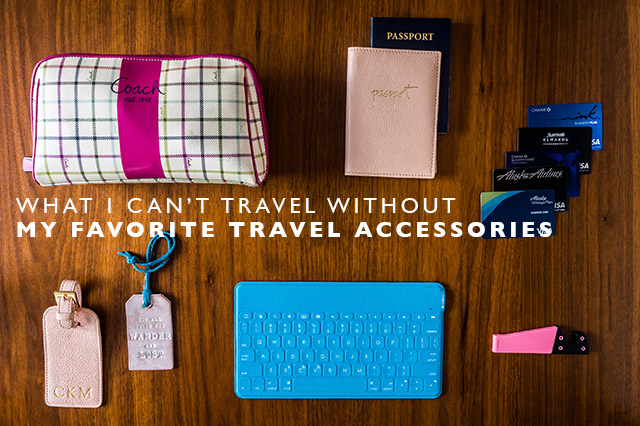 Over the years of frequent travel, I've picked up a few tips and tricks along the way.  Though perhaps what makes travel easier and more accessible are the travel accessories that I've found through the years.  Travel can be difficult and exhausting, but finding what works for you as an individual traveler can save you time and bad headaches along the way.  I've traveled a lot and thus have come up with certain things that I can't travel without and today I'm sharing with you my favorite travel accessories so that you can make travel easier too!
Tumi Hardside Carry On Luggage
A few years ago my small cheap carry-on I had bought at TJ Maxx broke on our way home from India, like as in a huge hole tore through the side of it and I had to tape it en route home.  Needless to say, it was a hassle.  After that, I made the choice to really invest in good luggage.  For us, it's become a necessity with how often we travel and truly great luggage was needed.  I looked around at a ton of different luggage companies and decided ultimately on Tumi.  I loved their hard side carry-on options as well as their color choices.  I really didn't want just black luggage, so when I found their Tegra Lite option in a matte white, I was sold.  Unfortunately they don't have the white option anymore, but their other colors are just as beautiful.  Nick upgraded his a year or so ago to the light gray option and neither of us have been disappointed.  The bags are sturdy, easy to maneuver and hold a ton!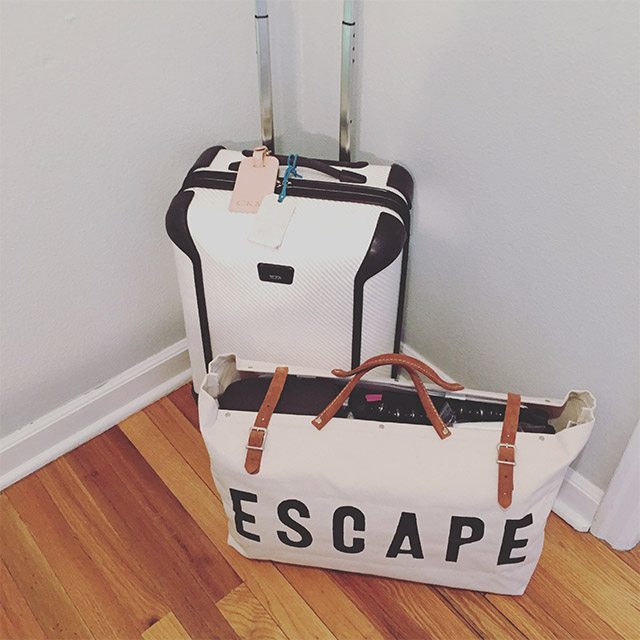 See similar options here and here.
Logitech Travel Bluetooth Keyboard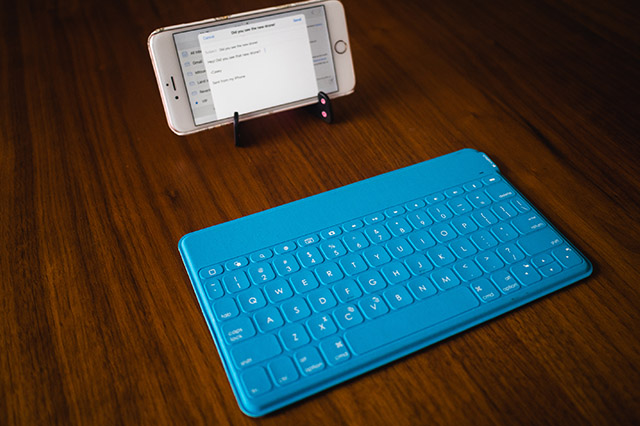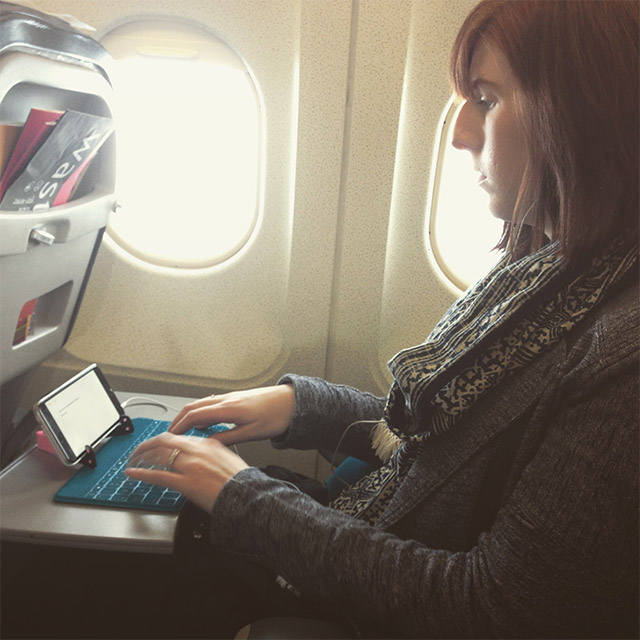 When we travel, we only have one laptop between Nick and I.  Our little Macbook Air that we love is shared between us while traveling and there are times when we both want to be working while on the road or in the air.  Often, especially on flights or at night in hotels, Nick will want to be editing photos or answering emails and I'll want to be checking emails or working on blog posts.  So instead of buying another laptop which would have been expensive, we found an amazing alternative which works so great.  Most of the time, I was only working on writing so I just really needed a keyboard.  Enter the Logitech Travel Bluetooth Keyboard.  This fun, light and colorful option is exactly what I needed.  It connects seamlessly to my iPhone and allow me a full keyboard to type on wherever I am.  I use it on planes, in hotels, really wherever I need to.
ESCAPE Duffel Bag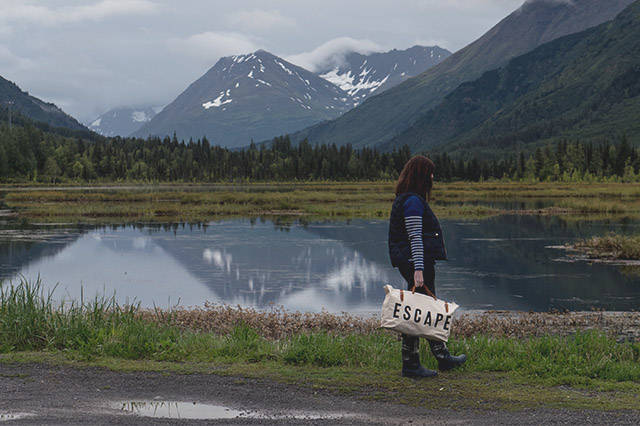 This past Summer I was really in need of a duffel bag.  While on larger trips our Tumi hard side luggage is amazing, sometimes you just need an overnight bag.  Tired of using reusable bags with my stuff just thrown inside, I started looking for a good duffel.  One of my good friends has an online shop and I'd been eyeing the ESCAPE duffel bag she sells for months before I finally bought it.  And after I did, I took it to both Alaska and Iceland for weekend trips and LOVE it!  I got so many compliments on it and it holds a ton of stuff, all the while by looking incredible.  The canvas bag that's hand painted with leather handles and amazing leather buckles, it looks vintage but with a modern sturdiness.
See it here.
Phone Stand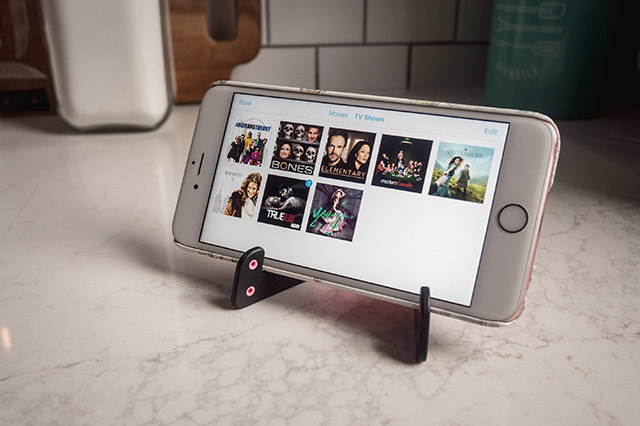 After I got my Logitech keyboard, I needed something to hold my phone up so that I could type and see the screen when traveling.  We looked all over and didn't want to spend a fortune on it.  Finally, Nick found these amazing (and cheap) options that work perfectly.  We got a pack of a bunch of them in all different colors and they have been the best option, not only to stand my phone up to type and write, but also to watch movies while traveling.
See it here.
Coach Makeup Bag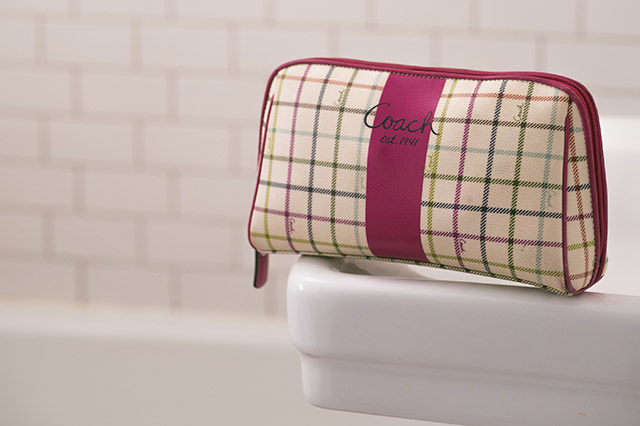 Years ago when I was living in Hawaii, I headed out one day to the Coach outlet on Oahu.  I didn't really need anything but I left with a makeup bag in the standard coach plaid pattern.  Now years later, I still have it and it still looks brand new and I'm so glad I purchased it.  Traveling a lot means bringing a lot of toiletries around with you and a good makeup bag is really important.  This one holds a ton, never looks worn thanks to the great leather material and is still stylish at the same time.  Invest in a good toiletries/makeup bag for travel, you won't be sorry.
See a similar option here.
Luggage Tags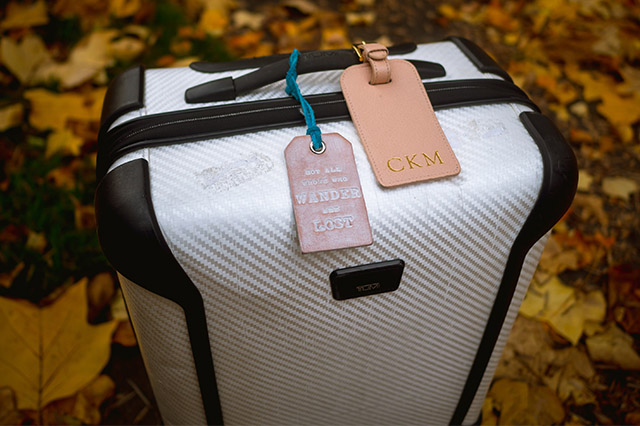 Luggage tags are a must for frequent travelers and over the years, I've gone through a lot of them!  I finally have a pair that I love though!  My main one with my name and information is from With Love from Kat's Gigi New York line and has my initials on it.  I keep this on the bag all the time, even when I have to check it since it has all my contact information on it.
See it here.
The second tag I keep on my luggage is one just to make me happy.  It's a white leather tag that I came across on Etsy a few years ago and it says one of my favorite quotes on it: Not all those who wander are lost.  It's one of my favorite travel accessories that I own and every trip, when I glance down at it, it just makes me happy and inspired to travel!
See it here.
*Some of the links in this post may contain affiliate links.