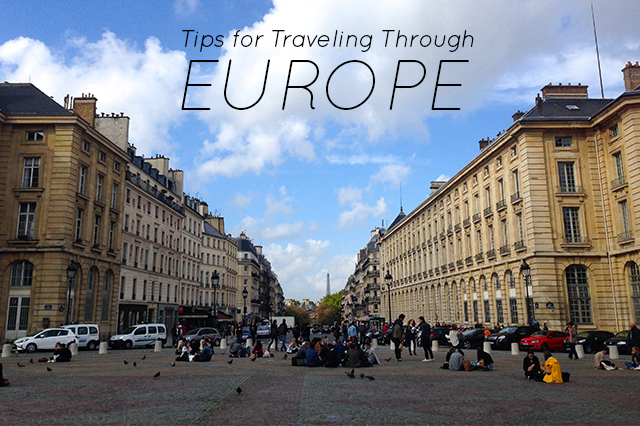 Europe is one of those places in the world that will always be a tourist destination, whether for the history of the continent or the cities that are famous for so many reasons, Europe has it all.

But with all the glory of visiting Europe (and believe me, it's amazing) it also has its quirks and things that many people, Americans especially, have a hard time getting used to.

All those quirks however are some of the best things about the continent if you can accept them and enjoy them.

So today, here are my top tips for visiting Europe and how to get the most out of your stay there.
You will wait a lot in Europe, waiting for a server to bring you menus at a café, waiting in lines for public transport or waiting in a car in traffic.
But waiting is all part of the European experience.
For one, most of European countries are small but jam packed with people and cars and bikes and everything in between, there isn't a lot of space to hold all the people that live there, so there is a lot of waiting.
For another, waiting is often part of the ambience of European lifestyles, such as living at a slower pace and enjoying the moments while you wait.
This is especially true at cafes and restaurants, you'll wait a while for a server and a while for your food and then a while for your bill.
But that's part of the experience, sit and talk, sip a cup of coffee or just admire your surroundings,
because
they are well worth your admiration.
Ask for the Bill or Menus.
Europe, as I mentioned above, is about a slower pace and that includes having to ask for things at restaurants.

In Europe it's sometimes the opposite of the US, when we're being rushed in and out of restaurants as fast as possible.

In Europe, waiters don't want to bother you while you eat and people linger longer.

Don't hesitate to ask for what you need though, like menus or the bill when you're done.

And don't feel like it's bad service if you have to ask, that's commonplace in Europe.
Venture off the Beaten Path.
Europe is a master at "off the beaten path."

That's often where you'll find the best restaurants, the most picturesque scenes and the best spots to really take in whatever European country you're visiting.

You'll be shocked at how different the "local" areas of Europe are from the tourist areas and you'll be so glad you ventured away from the tourist sights for a bit to explore.
See what you want to see.
I hear from a lot of people often that they come back from a trip to Europe and are totally overwhelmed the majority of the time they are there because they are trying to fit in everything they are "supposed to" see, instead of just taking it in and enjoying the areas.

The key to a great European experience is to see what you want to see and not worry about seeing everything.

This is especially true in the big cities like London and Paris and Rome, which all have so much to see and do.

Pick a handful of sites to see or things to do and don't worry about doing everything in the guidebook.

The key to Europe is to do as the Europeans do and enjoy life, take in the scenery around you and just be.