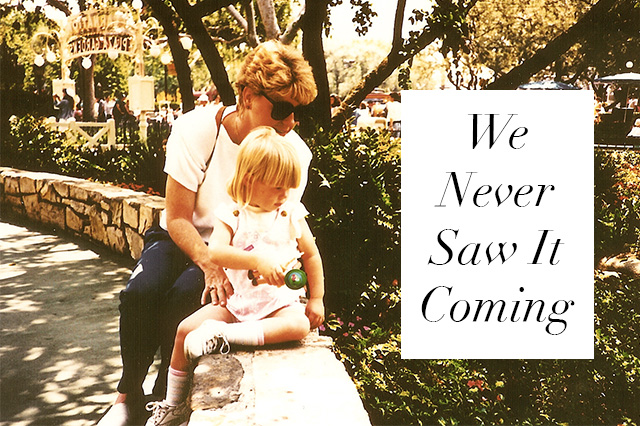 I've spent the last week trying to write this post in my mind, trying to find the words for what I need to say here today. And while I hate to start everyone's week off with such a downer, unfortunately these words here need to be written and they need to be read. So I apologize in advance and if you make it to the end of this post, I sincerely thank you.
Many of you probably have seen some of the vague Instagrams from me in the past week or so about something going on with my family, asking for prayers and thoughts and that today is still the main reason I write this post, because while I want to keep the majority of this scenario private, I whole heartedly believe that when people come together, amazing things happen. And you all, my lovely readers that come back day after day, you are a support system, you are a collective group of amazing individuals that I share so much with, that I feel it only fitting, when so much of my life is online, to share a bit of what is going on with you.
Last week my mom was diagnosed with breast cancer. My amazing mom who I talk to multiple times a day, who has given so much of her life to be the best mother, the best teacher, the best wife. My strong, fearless and confident mother was diagnosed with something that we never thought would be a threat in our family, that we never saw coming. We have no history of breast cancer, no warning signs, and so this diagnosis, more than anything, was complete and utter shock, something that flew out of left field at a time in her life when nothing pointed towards this.
I've spent much of this past week in a haze and even now, the words seem strange coming out of me, the idea so far from our realities that it's made me and my whole family suddenly reevaluate everything. Suddenly what seemed important yesterday, seems petty today, the worries that we carried last week, seem insane today. And perhaps it's because this is the first major health scare I've experienced in my immediate family as an adult or perhaps it's because it's been such a complete shock or perhaps because I can hardly bare to see my mom go through all this, but I can honestly say that my entire life has changed in a matter of days, the way I think, the way I see the world, the way I see humans interacting with each other, it's all different and it will be from now on.
And while we still don't know everything that will arise from this diagnosis or what exactly my mom's fight with cancer will entail, I do know that I have learned in a very short amount of time that life is sacred, that we must fight for and with those we love, that we must take each day and whether it's hard or not, we must do the best we can. I have learned that as people, we are capable of much more than we often give ourselves credit for. We can fight harder than we thought, we can hold on and we can prevail against whatever we might face.
So while this blog will continue to run normal in the upcoming weeks and my travel posts will continue to be posted, I hope that with each post you read, that perhaps a tiny prayer could be sent my way, a thought of goodwill towards my mom. I know many of you out there might have been through something similar or have a loved one in a similar situation and I hope that through the challenges, through the hardships we might all band together and fight this fight together.
PS – Any of you reading this that might know my mom personally and want to reach out, we ask that you refrain from calling at this time and send any messages you might want passed on through me. Thanks for understanding!