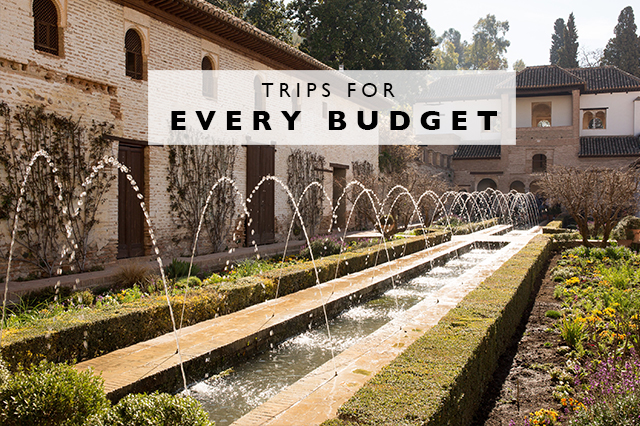 There is no harm in saying that traveling can be expensive.  And the truth is, everyone is traveling on a different budget, so it's important to note that some trips are best done on a higher budget, while other destinations you can do for really cheap.  So today, if you're looking at traveling on a specific budget but you're not sure where to go, here are my best options for trips for every budget and why!
Budget Traveler
Option 1: Thailand and Cambodia
For the perfect budget trip, Thailand and Cambodia are perfect!  These countries are incredibly cheap to eat and get around.  Your biggest expense will be getting there!
If you want to do a Europe trip but don't want to spend a ton of money, Spain and Portugal are perfect!  Both are way cheaper to eat and explore than their European neighbors and even hotels are a lot less.
Mid Range
Option 1: Peru
If you want to have an adventure and want to spend a little more than a budget traveler but not go all out, Peru is a fantastic option.  You can get amazing hotels in cities like Cusco and Lima for as little as $150 a night and food and transportation is pretty decently priced throughout the country.
Option 2: Iceland
Iceland is a fantastic option if you want to land mid-range for your budget.  Hotels throughout the country are still relatively priced compared to mainland Europe and you can get good spots for around $150-$200 per night, especially in the shoulder seasons!  It's also pretty economical to rent a car in Iceland and the most amazing part, all the exploring is free since the country is so gorgeous!
High End
Want to head to Europe and not cut corners?  Paris and London are great cities to do that with.  With endless high end hotels, shopping and amazing restaurants, spend a few nights in each city for a special splurge trip!
Option 2:  India
While you might think, wait, India should be more up in the budget traveler category, India is also a fantastic spot to splurge on.  If you're willing to pay a little more, your trip to India will be even more amazing.  Splurge on hotels like the Oberoi Udaivillas for your own piece of paradise and hire private drivers to get you around… you'll be far more comfortable and still have an amazing experience!