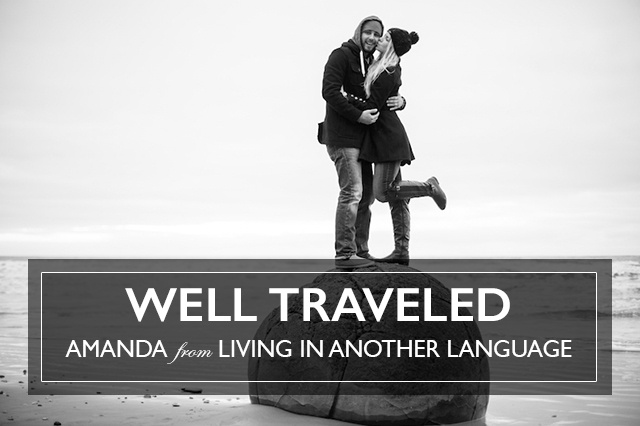 Amanda was one of the first travel bloggers I followed regularly, from her time in Korea to now living in New Zealand, she's got the traveling/expat lifestyle down pat.  She also is my go to for web design and I'm glad to have gotten to know her over the years!
Find her here: Living in Another Language
What's your dress code when flying: dress up or dress down?
I'm all for classy comfort.  I have a favorite black maxi that I bought from Victoria's Secret a couple years ago that I ALWAYS wear when I'm flying.  It's a perfect combination of "dressy" meets comfort and while flying it feels like I have a light blanket on my legs.  Can't get better than that!
Favorite luggage?
I actually don't even own luggage.  I know it sounds crazy, but we moved abroad with four military-issued canvas bags, and two 50L backpacks.  We bought our backpacks from REI, and right now I can't even think of the brand.  Whenever we travel, we like to save time and money and only take what we can carry in our backpacks.  Last year we took a 60 day trip and managed quite nicely with just the one carry-on each.  Check out what I packed for that trip here.
Best flight you've ever had?
During our first year in Korea, Derik and I took a trip to Bali.  We decided to give Cathay Pacific a try, and they turned out to be a wonderful airline.  On the way back to Korea, we rode on a brand new plane that had tons of leg room and these cool personal entertainment sets that included whole seasons of certain shows!  It was awesome!
Favorite hotel you've ever stayed at?
This is such a hard question to answer.  We've been to some amazing hotels: an all inclusive resort in Bali, a jungle paradise in Borneo, and a ritzy hotel in the heart of Kyoto (which we booked at 75% off through Agoda).  Last year my husband took me to a really nice resort in Phuket, Thailand for Valentine's Day, and I think the staff were confused and thought we were on our honeymoon!  They brought us (free) cake and champagne, and left rose petals and bubble bath for the jacuzzi tub!
We try to mostly stay at budget hotels, but it's nice to splurge every now and again.  The thing that impresses me most about a hotel is their cleanliness and service.
If you could make flights on airplanes better with one thing, what would it be?
More leg room!  Derik is 6'4″ and I'm 5'8″.  I'm also kind of like a child when I fly, so I'm constantly fidgeting and moving around, trying to get comfortable.  The more leg room and space we have during a flight, the better!  We are never lucky enough to be upgraded, and for some reason we always have people sitting next to us, no matter how empty the flight is!
What is one place continuously on your list to get to that just hasn't happened yet?
I'm constantly in a serious state of wanderlust.  I've had my eye on Iceland and Morocco for ages.  We're really hoping to do a European trip in the next few years, and maybe we'll be able to skip over to Africa to check Morocco off my list?  As far as Iceland goes?  It may be a while.
Your next planned destination is where?  
We literally just stepped off the plane from a week in Australia, but that doesn't keep us from dreaming of our next location!  We'd really like to get over to Samoa, or even spend more time in Fiji.  We don' have any plans set in stone at the moment, but things could change quickly!
What is the best souvenir you've ever brought home from your travels?
Derik and I try to buy an original painting from every country we visit.  To have all this fantastic artwork from so many different parts of the world is priceless to us.  It'll be fun to have a house someday to hang the pieces in!
Where have you been in the last 6 months and where was your favorite?
We moved from Korea to New Zealand this past June and have been loving our time in such a beautiful country.  During Christmas vacation we jumped on a 12 day cruise from Sydney that went to New Caledonia and Fiji.  It was our first time cruising and we had a wonderful time.
Where is our favorite place?  I'd have to say New Caledonia was paradise on earth.  Without a doubt, we will be back to visit.  Think of pristine white beaches and crystal blue water, palm trees AND pine trees!  It's such a unique and special place.
What's your best kept travel secret?
Our unlocked smartphones!  We like to go "technology-free" when traveling, but there are some things we come across where having a smartphone is actually pretty nice.  Whether it's navigating through Phu Quoc Island, Vietnam on scooters or using it as a language translator in Japan, they can be useful!  Buying a temporary sim card with limited internet only costs $15-35 for 2 weeks!