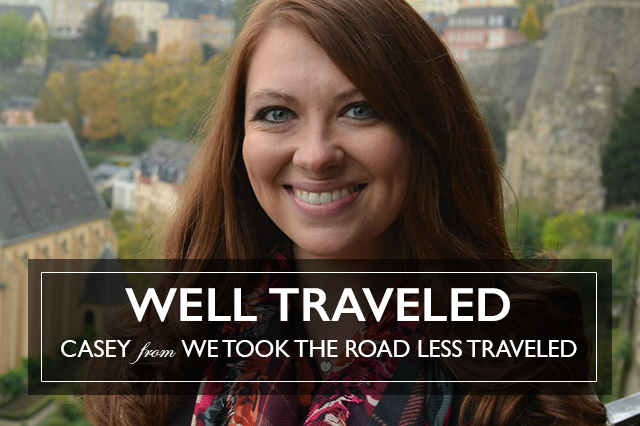 I've always loved following Casey around Europe when her and her husband lived in Germany and following along now as she has her own travel agency, and honestly, we have the same name so how can you go wrong?
Find her here: We Took the Road Less Traveled
What's your dress code when flying: dress up or dress down?
I'm more of a dress normal type gal, if that makes sense.  To me, that typically means wearing a pair of jeans, slouchy sweater, boots, and jewelry…nothing too fancy, but it's not sweat pants so I don't look like a total slob.  I like to be ready to hop off the plane and hit the ground running with minimal fuss.
Favorite luggage?
I roll around my trusty Delsey carry-on and luggage set.  The Kelsey brand has been good to us…durable, stylish, and it has weathered many a trip around Europe.
Best flight you've ever had?
Can I say NONE?  I used to love flying but after 3 years of flying almost twice a month…now I'm slightly terrified of it.  One too many super turbulent flights and a handful of "Oh no, I think we might die" moments for me.  No joke.  These days, I'm thankful for less air travel in my life.  But if I have to choose, Id say our recent flight to Vegas was just about as smooth as it could be.  Thank you, Lord.
Favorite hotel you've ever stayed at?
Au this is a tough one.  We LOVED our honeymoon at Sandals Grande Riviera in Ocho Rios, Jamaica… but more recently, we really enjoyed our stay at the Gaylord Palms Resort in Orlando, Florida.  Such a cool resort and our room was beyond gorgeous.  Well-decorated, spacious, with great views…exactly what I look for when choosing a hotel!
If you could make flights on airplanes better with one thing, what would it be?
Can no turbulence be an answer?  I can't play God, but if I could, that'd be it.  More realistically, TV's in every headrest even on short flights.  I need distractions.  Also, more leg room.  One can dream, right?
What is one place continuously on your list to get to that just hasn't happened yet?
Napa Valley, California.  WINE COUNTRY!  It's been on my bucket list forever, but we keep bumping it down the list for cheaper, longer vacations.  The West Coast is just so far to go from NC, or now, Florida…flights literally kill our dreams each time.  We will get there, someday!
Your next planned destination is where?  
We're hopeful for a long weekend in Key West for Memorial Day!  Nothing officially planned yet, but it's on my list!
What is the best souvenir you've ever brought home from your travels?
A vintage wine barrel from German wine country.  It's engraved with our family name and the dates we lived in Germany.  It's sitting in our home bar and is one of my most cherished pieces from our time abroad.
Where have you been in the last 6 months and where was your favorite?
We've done countless trips to Walt Disney World (an hour drive away from our house), a weekend in Savannah, Georgia, a week-long beach vacation with family in Emerald Isle, NC and a fun weekend playing around Las Vegas.  They're all my favorite for different reasons…but I have to say Vegas was an unexpected gem.  We LOVED the atmosphere and all the lights!  And winning money didn't hurt either!
What's your best kept travel secret?
If you're a light sleeper (like me), download a rain sound or white noise app on your smartphone.  A bad night's sleep can make or break a vacation day full of sight-seeing.  Also, travel with an open mind.  You'll likely have more fun if you don't place a lot of heavy expectations on your vacation and just go with the flow!