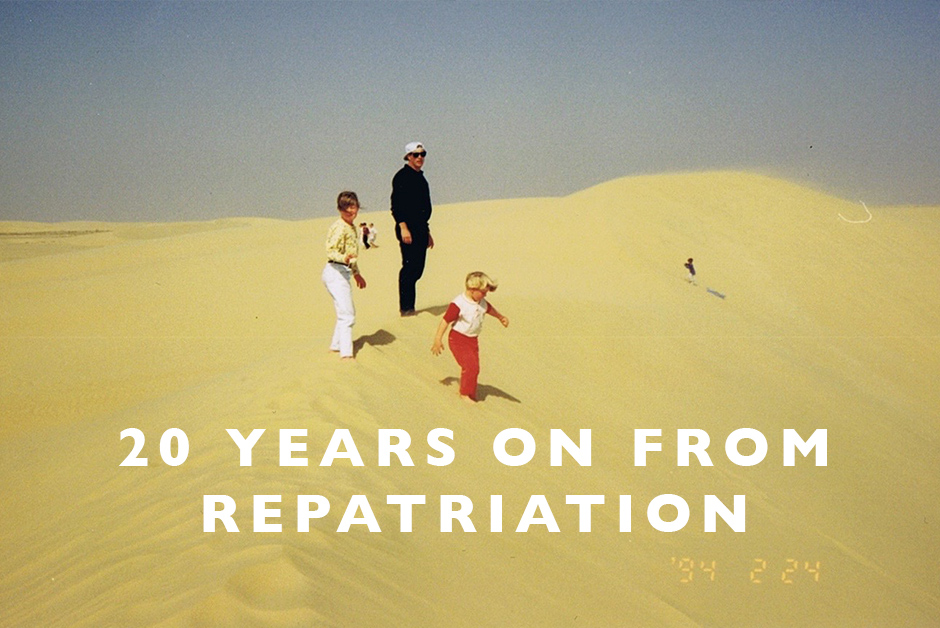 20 years ago this Summer, my family left our home in Saudi Arabia.  We packed up everything we owned in shipping containers, sent our furniture across the ocean on a boat that took months.  We spent our final week in our home on the Persian Gulf saying goodbye to everyone we had known for all those years, everyone that I had grown up with – family friends, school friends, church friends, neighbors.  Imagine in a week or a few days, all those goodbyes, not sure if you'd ever see those people again.  I still remember what those last few days felt like, a pre-teen girl watching everyone I'd ever known slowly slip away.  And on our final day when we headed to the airport, I vividly remember the tears just kept coming.
I hadn't really realized it was 20 years this year until all the stuff about the anniversary of Princess Diana's death kept coming around recently.  And yet another vivid memory, I remember hearing about that on the drive home from River Rafting in Rogue River, something my family did a lot that first Summer in the States when we resettled in Medford, Oregon after leaving the Middle East.  For some reason, that marker in time always reminds me of that first Summer in the US and brings back so many flooded memories of our repatriation.
Just to back up for a second so I can explain what the magnitude of 20 years back in the US really means to me, if you're not aware, I was born and raised in Saudi Arabia.  I spent the first almost 12 years of my life there and it was my home.  We would come back to the States every Summer for what we called repat, mostly to get out of the intense Summer Middle Eastern heat, but other than that, our home on the Persian Gulf was all I knew.  Saudi Arabia is still strewn across my passport as place of birth and while I've always been an American citizen, born to two American parents half way across the world, part of me will always feel more connected to the Middle East than anywhere else.  So leaving at almost 11 years old, saying goodbye to everything I had ever known, my childhood home (which I'll likely never see again), my friends, our neighbors, the people I had spent all those years with, the people I grew up with, it was traumatic to say the least.
Those first few years back in the States were really hard for me and looking back, I've honestly blocked a lot out.  I didn't fit in in Medford, Oregon, a mid-size town close to the California border.  No one around me understood where I came from, why I didn't feel like I was American or the emotions I was going through.  In truth, at that moment in my life I didn't feel American and even in the 20 years since then, to this day, I still consider myself much more a citizen of the world than even my one single country.  But also, if I'm being brutally honest, it's taken me years to feel American.  For over a decade, I struggled with what that meant, with the feelings I had and how I never really felt fully Saudi or American, something that learning about Third Culture Kids changed forever.  And when I meet new people and explain how I grew up and where I was born, I always acknowledge, that as cheesy as it sounds, finding that terminology of who I am, completely changed my life and became a catalyst for the next phase of my life.
I guess the point of all of this is that repatriation into your passport country is hard if you're an expat.  It's draining and tiring and sad and dis-placing.  It makes you feel like there is something wrong with you for not fitting in, or being the same as everyone else.  Still to this day there is so much that goes over my head when my husband talks about something from his childhood in the US, things that I never did or saw because we were a world away.  Repatriation is a marathon, not a sprint.  It takes years and lots of emotions to somehow fit back into the country you're supposed to fit into.
20 years on from repatriation, I'll tell you this: there are days that I still struggle to feel like this country is where I belong.  There are still times when I feel completely misunderstood because of my background.  There are still days when I wish I could jump on a plane and land in the town I grew up in and then a flood of sadness comes when I realize I can't do that or that my husband Nick might never get to see where I grew up.  There are still days that I crave a schawarma with everything I have and whenever I drink Orangina, it brings back floods of memories from my childhood where it was a constant staple.  There are still times when traveling abroad that I wish my passport wasn't American, and there are still times when I wonder what would have happened if we hadn't left.
But the one thing I have learned in the 20 years since we returned to the States from our home in the Middle East, my childhood there is the biggest blessing I could have received.  I treasure my time there, my birthplace there, the lessons I learned there.  I treasure being a third culture kid, I treasure that when I go through Immigration while traveling, Saudi Arabia, is my place of birth on my passport.  I treasure that I got to grow up among sand dunes and camel markets and the call to prayer.  I treasure how much I know about that part of the world and how over and over in my adult life, Saudi keeps coming back to be part of my life in one way or another.  While repatriation is beyond difficult and my journey of repatriation has been years in the making, I wouldn't change my situation for anything. And while today, 20 years on, I'm more American than I ever have been, I'm also a little bit part Saudi and a little bit part of all the places around the world I've traveled and I know with absolute certainty, that's exactly who I'm meant to be.
Interested in reading more about my childhood in Saudi Arabia?
See all of my posts on the country!