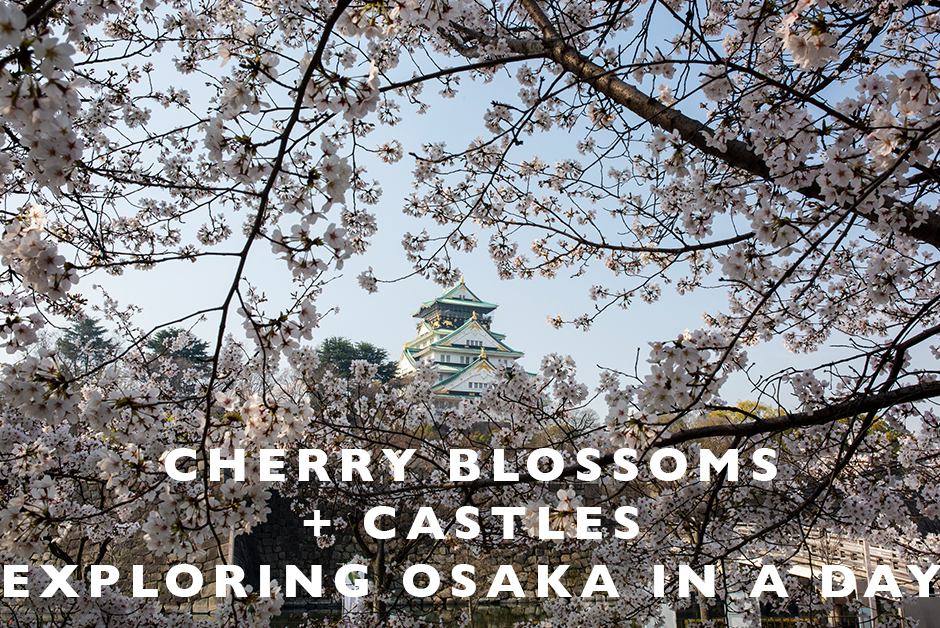 When we were booking our trip to Japan for Cherry Blossom season, I had a handful of Japanese cities I really wanted to explore.  And while I wanted to see Osaka, it wasn't at the top of my list.  However, after taking a look on the map of where we wanted to explore, it made more sense to base ourselves in Osaka for 4 days and do day trips to all the other cities like Kyoto and Nara instead of moving hotels every couple days.  In the end, Osaka ended up being a favorite and I would for sure go back!
In essence, because we did other day trips to other cities while based in Osaka, while we actually stayed there 4 nights, we really only explored the city itself for 1 full day but a beautiful day it was.  We began our day Shin-Osaka station at rush hour and experienced our train ride being literally pushed inside the train by Japanese rail people (I had seen videos of this before, but never had experienced it until this trip) and let me just tell you, Japanese train rush hour is no joke!
We started our day exploring at the Osaka Castle grounds and wandering through the beautiful park that surrounds the castle perched up on a hill.  We gawked at the gorgeous cherry blossoms and took our time meandering through in the peaceful quiet of the morning sun.  The castle is gorgeous as it sits atop the area in true ancient Japanese beauty, surrounded by a moat and bridges, the whole area is breathtaking.
After our time exploring the castle grounds, we jumped on the subway and headed to Dotonbori, a famous area of Osaka famed for it's shops and restaurants.  It has everything you could ever want!  We wandered the little alleys and took in all the colorful signs and stores selling all ranges of things and finally settled on a little whole in the wall spot with 3 tables for lunch.  It turned out to be one of the best meals of our trip and we spent a long lunch devouring edamame, stir fried vegetables, karaage (Japanese fried chicken) and house made noodles.  After an incredible meal, we wandered back through the galleries and arcades of Dotonbori and splurged on some soft serve ice cream.  One note for people visiting Japan, it's considered rude to walk and eat, so make sure if you're getting food like ice cream or something like that, you stop and eat it right near the stall where you bought it.
After more wandering and a little shopping, we jumped on the subway back to Shin-Osaka station where we were staying right next door to the train station (super convenient) and spent the afternoon resting, finishing off the day with some incredible ramen from a little food stall in the train station.  Another tip for those new to Japan, the train stations and most office buildings have these amazing food-court type areas with tons of little amazing restaurants – so be sure to check that out when in Japan! Usually they are tiny little restaurants and have amazing food!
Overall, we loved our day in Osaka and it ended up being one of our favorites of the trip.  We found Osaka to be less crowded with tourists that Kyoto and was a lot more peaceful and local which was really nice!
Tips for Osaka
Go to Osaka Castle early in the day – you'll have the place all to yourself.
Instead of having a real plan for your time in Osaka, spend more time wandering. It's a great city for that.
The train and subway systems are excellent in Osaka, so use those to get around anywhere you need.
Traveling to Japan?
See all my posts on the country!