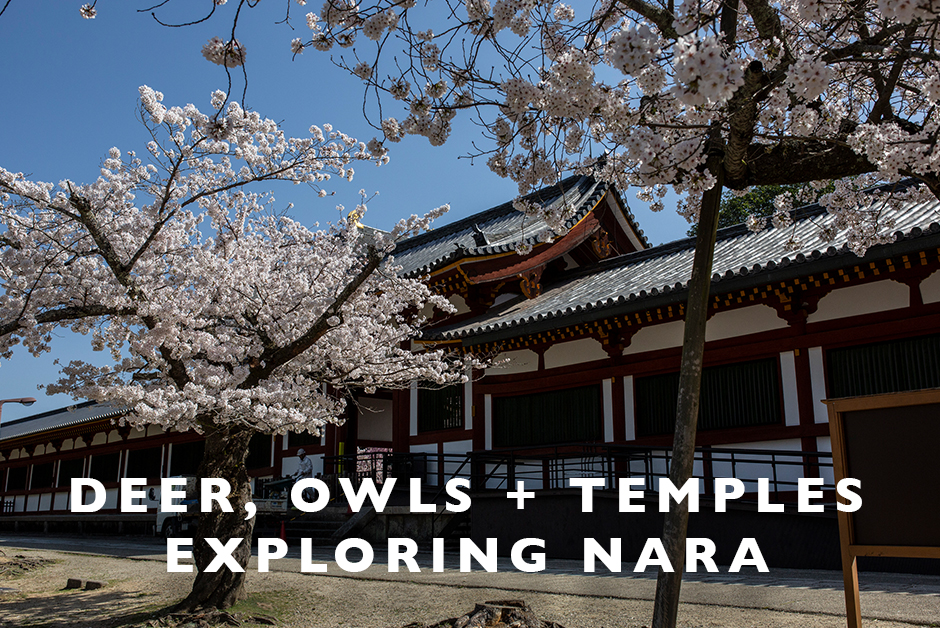 I came across a photo of Nara a year or so again and made a point to get it on our travel itinerary for our return trip to Japan.  In the end, it ended up being my favorite spot of the trip and I'm so glad I made it a priority.  While Nara is small and somewhat still off the beaten path compared to nearby cities like Kyoto and Osaka, it offers a beautiful view of this area of Japan.  Only a 45 minute train ride from Osaka, Nara is tucked back in the countryside and the train ride itself is stunning.
Upon arrival, Nara Station is small and un-assuming.  And after you leave the station, you'll be met with a little city that is quaint and charming. We wandered up the main road, past tons of little shops and restaurants toward Nara Park, the main reason we had come to this beautiful little city.  Nara is famous for this massive park and green space, where you can wander for hours and come upon temples and other shrines throughout the grounds.  But the most amazing thing about the park – the wild deer that roam freely and are friendly with people.  I love animals and this for me what a highlight of the trip, as we wandered through the park grounds bright and early (before the tour busses showed up) and tried to pet every deer we saw, which was a lot!
We wandered up the hillside towards the Todai-Ji Temple where the famed Great Buddha resides.  The temple itself is grand and beautiful, coupled with the entrance filled with some of the most beautiful cherry blossoms we saw the whole trip, but the real show is the Great Buddha upon entering the temple.  This massive structure is overwhelming and it really took some time for me to take it all in.  While Nick was taking photos, I found a bench in the corner to just really take a moment and see what was in front of me.  After our day previously in Kyoto at the Fushimi Inari shrine full of tourists which made it hard to really understand and take in the beauty of the shrine, I wanted to make a real effort to that here.  The sheer size of the statue was incredible, but the more I thought about it, the reverence behind such a place, it was a beautiful spot to spend a moment really taking it all in and really seeing what was in front of me.
After our time in the temple, we wandered back through the Nara Park grounds, bought some green tea ice cream and just sat in the park, petting deer and saying how beautiful this part of Japan is.  Little did we know, that the best was yet to come!
After ice cream, we headed back down the hill to head back to the train station and head back to Osaka, when we stopped at a few little shops and bought some souvenirs.  Just after leaving one of the shops, I saw a sign for an Owl Cafe.  Now I had read about owl cafes and how popular they are in Japan and I also know how much Nick loves owls, they are his favorite animal!  We tucked our heads inside to see what it was like and we knew we had to do it.  Long story short, we spent an hour in the cafe putting owls and getting to hold them.  I have literally never seen Nick so excited – he just kept going back and forth between all the owls petting them and taking pictures of them.  We especially fell in love with little Kin, a tiny little owl that even at full grown was only about 5 inches tall.  He was so gentle and curious and ended up being our favorite.  And while I try always to be responsible in places like this with animals, it made me feel good that the ladies running the cafe really loved the owls and would nestle their heads against them and talk to them, which made me happy that even though the owls are in captivity, they were loved.
After our incredible hour with the owls, we wandered back to the train station and headed back to Osaka after a wonderful day in Nara, which I can't recommend highly enough!  If you are going to go to Nara, I would again suggest, same as I have for all my Japan posts, go early in the morning.  By the time we left around 1 or 2 in the afternoon, there were a ton of tour busses coming in.  All in all though, Nara was gorgeous and I would for sure go back.
Traveling to Japan?
See all my posts on the country!