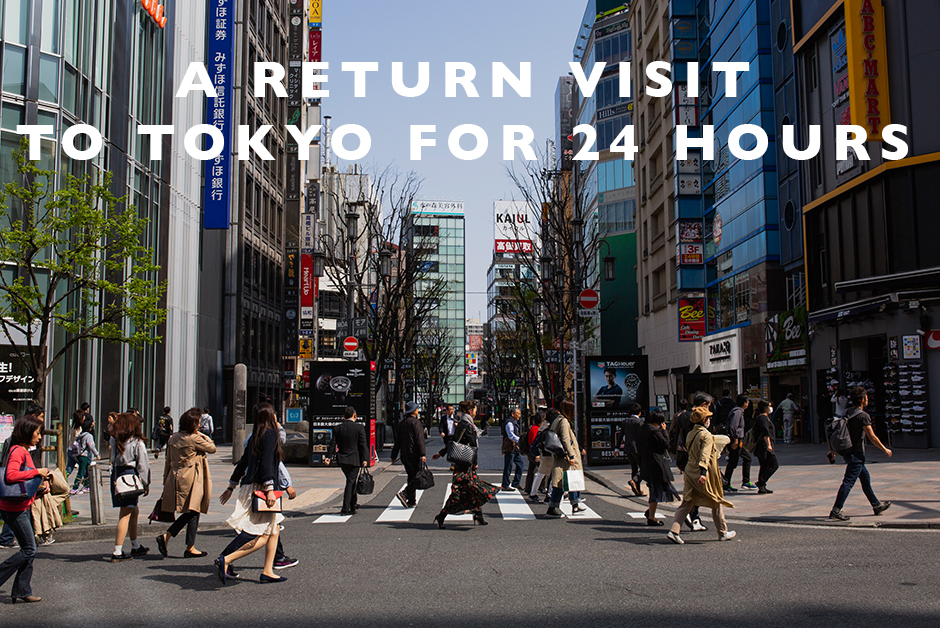 After our week spent in Hong Kong, Osaka, Kyoto and Nara, it was time to head to Tokyo for a couple days at the end of our most recent trip to Japan.  We spent a week in Tokyo about a year and a half ago for the first time and fell in love with the city and the country of Japan on that trip and it was our experiences on that trip that made us want to make this return trip for Cherry Blossom season.  Tokyo is an amazing city – huge yes, but clean, sophisticated, easy to get around – it's become one of my favorite cities in the world and I don't say that lightly.
We arrived to Tokyo Station by bullet train from Osaka and headed up to what has now become our "usual" spot while in Tokyo, the Tokyo Station Hotel.  We dropped off our bags since it was too early to check in and headed across the street to one of our favorite ramen spots in the Marunouchi area of the city.  After an incredible lunch of gyoza and ramen, it was such a beautiful Saturday in Tokyo that we just grabbed a bench and sat in the sun, watching people shopping and wandering around.  We actually just sat there for a while, taking it all in.
After a bit of rest, we wandered over to the Imperial Palace grounds nearby in Chiyoda and up to the top of the palace hill to wander through the open park up there, followed by a walk around the grounds to see the famous Chidorigafuchi Park along the moat that encloses the palace grounds.  This park is famous for its cherry blossoms and while they ended up being past their peak by the time we got there, it was still beautiful and everyone was out enjoying the beautiful weather.  It was amazing to me how just a few days earlier in Osaka and Kyoto we had hit peak blossoms, and then just 3 days later, many of the blossoms in Tokyo were already past their peak – amazing how nature works!  We spent the rest of the afternoon wandering back around the palace grounds to our hotel where upon returning, tired and sore from walking for hours, we were taken to our room in the Tokyo Station Hotel which ended up being one of the largest suites in the hotel!  We seriously couldn't believe our luck – which we chalked up to it being Saturday night and we happened to be in town just for one night (most people probably have longer stays) and me working with the hotel in the past for LOM, but regardless, we spent the evening in our massive corner suite and watching the sun set over the city outside.
The next morning, we really only had a half day in Tokyo before needing to leave for the airport, so we headed back to a favorite neighborhood of ours: Shinjuku.  I love Shinjuku for many reasons – the true "Tokyo" feel, the shopping, the ease of getting there via the Subway and of course, there is a Laduree there for a macaron fix.  We arrived at Shinjuku station and headed first Starbucks for one last Black Tea Latte (can't this Japanese Starbucks fave come to the States!?!?), then meandered down to Yodabashi Camera for Nick to browse camera gear, followed by macarons at Laduree before jumping on the Subway back to Tokyo Station to grab our stuff and head to the airport to fly home.  While it was definitely a quick trip in Tokyo, it cemented my feelings on the city as one of my favorites around the world.  It's fantastic for a week or for a day in my opinion and there is truly something for everyone in Tokyo!
Tips for a Quick Visit to Tokyo
For food, most buildings and train stations are full of little restaurants in food court type settings but the food is amazing!  We especially love the Marunouchi Building near Tokyo Station for great little food spots including our favorite ramen place in the area.
The subway and train system is amazing and will get you anywhere in the city fast – use this over taxi's unless your going really off the beaten path.
Tokyo is really walkable so bring comfortable shoes and take in the sites that way!
Headed to Tokyo?
Check out our Tokyo Travel Guide in the Land of Marvels Shop for only $5!