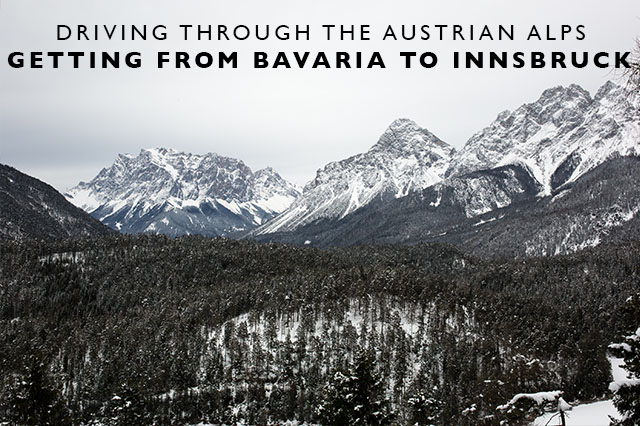 One of the things I had a hard time getting information on before our road trip from Munich into Austria was on the drive itself and the road conditions for this route driving through the Austrian Alps.  We drove from Munich to Neuschwanstein Castle and then on to Innsbruck and while on the map it said it was only under 2 hours, I had a hard time finding out weather and road information on the route.  So here's my tips for driving through the Austrian Alps on the route from Neuschwanstein Castle to Innsbruck, Austria.
Drive on a Clear Day if at all possible
We lucked out with a clear day during our drive on this route, no rain or snow, but the mountains around us were all covered white.  One thing is clear – I wouldn't want to be driving this route in the middle of the Winter in snow…. so shoot for later in the Spring or try to make it through on a clear day.
Take your Time
The road is curvy and windy and the views are breathtaking as you drive – so take your time and don't rush.  You'll want to go slow around sides of mountains and such, so don't rush yourself.
Stop for Views
There are a quite a few pull outs along the route to stop for views.  The views on this road are breathtaking and you'll for sure want to stop so add those into your overall travel time.
It's a Curvy Road – it will taker longer than the map says
Our map told us it would take about an hour and a half and we ended up taking almost an hour more than that between stops and having to slow down around curves.  It's super windy in spots so you'll be going slower than you normally would.
It's one of the Most Scenic Roads in the World
The Alps were incredible driving through this route and it was truly one of the most scenic roads I've ever driven on and we've driven in some amazing places!  The Alps' sheer size and shape is stunning and the viewpoints looking out over vistas in the mountains were breathtaking!
Traveling to Austria?
See all of my posts on the country!